Post by thecrazedmadman on Apr 20, 2011 3:47:14 GMT -8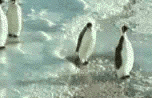 ok, so I was all prepared to come out of lurking to defend you and say that everyone should give you break, not everyone has the time to devote to listening to full albums and you're probably making the best of the time you have available for music, blah blah blah...
but GOOD LORD! you have 30- 40 hours a week and you say you can't find the time to listen to an album all the way through!
I wasn't really so prepared to jump onto the "YOURE NOT LISTENING TO MUSIC PROPERLY" bandwagon but I guess here I am. I just can't see how one can fully appreciate an artist's work by just picking and choosing a random song here and there, even if they are the most popular ones. It would be like picking up a book and flipping to page 137, reading a paragraph and then flipping to page 42, reading another, and then deciding it wasn't a very good book.
Wow....I must have REALLY not explained myself (or, maybe you just didnt read when I came into the thread), I listen to full albums.....a lot, think I went through about 10 different ones this week. It is the best way to get a sense of a band....agree 100% here, what I have said before and I'll say again is if I dont like a band from a bunch of random songs....I wont spend the time and go through a full album. I like spending my 30-40 hours on GOOD bands....because, theres a lot out there (but even more crap). Yes, I know I cant get a full opinion on a band from a few select songs....but I like to think of it as a movie trailer, if the trailer looks like crap....you're not going to see the film unless critics/friends recommend it. I am the consumer here, the artist should entice me into listening to their album.....if the songs I find are crap, 90% of the time the rest are crap.
Got a question to add here:
For example, you hear a few mediocre songs from a band on the radio, to get the "full opinion" on the artist you listen to their most popular album, its still mediocre.....you never listen to them again. In the time it spent to get the album, listen to it a few times to get the "feel" of the band.....you could have been looking for a new artist, maybe one that you actually like....but you no longer have time. You now missed out on a great band because you were getting in depth with a mediocre one, tell me how that makes more sense to you guys.