Post by Horned Gramma on Nov 9, 2010 7:07:21 GMT -8
11/9/10Optiganally Yours - Presents Exclusively Talentmaker!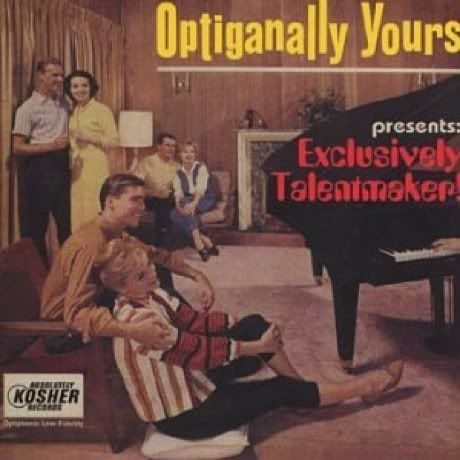 The discography of the ubiquitous Mr. Rob Crow is overwhelming to say the least. I'm sure you've all got at least one Pinback record in your collection, and if that appealed to you it is possible that you sought out a Heavy Vegetable or Thingy record. Dig any deeper than that, and you find yourself needing an unreasonable amount of disposable income to keep up with the guy. With albums from The Ladies, Goblin Cock, Aspects of Physics, as well as a handful of solo records, you REALLY need to dig Rob Crow to have dug deep enough to have found one of my all-time favorite records: Exclusively Talentmaker!
Optiganally Yours is the project of Rob Crow and one Mr. Pea Hix, initially formed as strictly a cover band, performing old standards and pop chunes on the Optigan. The Optigan - or 'optical organ' - was produced in the late 60's and early 70's by Mattel, and was a keyboard-based instrument that reproduced pre-recorded sounds using an optical disc. It was kind of like an early contemporary of your standard synthesizer.
'Exclusively Talentmaker' is OY's second album, and it takes its name from the fact that it was recorded using - you guessed it - a Talentmaker (an off-brand cousin of the Optigan). Exclusively. If it sounds particularly lo-fi, it's because aside from the acoustic guitar that was super-glued to Rob's chest when he was fourteen, the only other instrument is built around outdated technology that disappeared thirty years ago.
At the age of 21, this record cast me into the life of a career stoner by introducing me to the immense power of stereo sound. Sitting in a Dodge Shadow behind the mall in Provo, Utah and smoking a joint while listening to the directional effects used in 'Figaro' honestly, literally changed the way I listen to music forever. The correct separation of sound sources suddenly became an obsession. Adequate sound-cancelling headphones became a permanent accessory.
'Figaro' is a subtle masterpiece of studio engineering, but the butt-shaking shuffle of 'Gepetto' is the real highlight (and before you ask, no, I don't understand why this album seems to be explicitly about the story of Pinocchio half the time). The wooden boy's heartbroken father follows his escaped creation to the ends of the earth only to be swallowed whole by a whale, about which the old guy couldn't be happier: "No one can find me in here/No one can follow me in here/No one even knows that I'm here/No one can shove me in here/And I can cha-cha all day..."
Let it be known that 'Gepetto' is the ONLY song in the world that forces me to dance every time it is played.
What I love about Exclusively Talentmaker, and what sets it apart, is the sound palate: at first it sounds so flat and antiquated, which creates interesting contrast to the stoner metal and bargain bin prog that runs through Rob Crow's veins. It's a combination of sounds and textures that is unlike any other record I know - not even the first Optiganally Yours record. Pea keeps the Talentmaker chugging along like a turn-of-the-century steam train while Rob sings - with an equally straight face - about hunting for spare change to buy stale doughnuts at 3:00am, or having his hair cut into a mullet in the middle of the night by the mysterious Poodleman, or drowning in the ocean...
These songs are like those mind-bending, thirty second Bill Plympton cartoons that would come on in the middle of the night on MTV. They are too strange to be silly, they are too perfectly crafted to be throwaways. And they are too great to have been lost in the miasma of college rock that came out before the internet was a thing that could give this record it's due.