Post by Horned Gramma on Nov 29, 2010 10:04:45 GMT -8
11/29/10A Journey to Happiness Island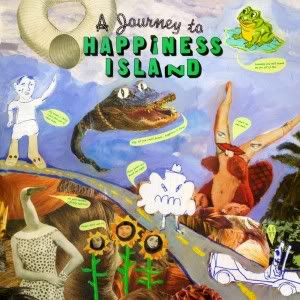 In honor of my return from the digital void, we are taking a journey.
There are underappreciated records, then there are 'lost masterpieces', then there are dollar bin treasures, and then there is 'A Journey to Happiness Island'. Initially existing only as a limited run of I believe 500 copies pressed on sea green vinyl, 'Happiness Island' is a strange, singular experience.
Gabriel Boyer and Malcolm Felder run Mutable Sound, as tiny a record label as you can conceive of. Mutable is kind of based out of Eugene, Oregon and kind of based out of Chicago, but it really serves more as a state of mind for Gabe than anything. Gabriel Boyer is one of those people who is absolutely driven to sustain a massive creative output. 'Happiness Island' is his first and most handsome child.
Gabe and Malcolm met and bonded over a mutual love of Bruce Haack, one of the grandfathers of electronic music. The story of Bruce Haack and his bizarre muse is already the subject of a pretty good documentary (Haack: The King of Techno), and is too complex to go into detail about in a review about other musicians. The bulk of his career was spent writing educational records for children in the late 60's; 'educational' being a loose term for guided meditations which focused on group movement, which play similarly to one of Dan Deacon's live sets (minus all the drugs and sweating). It's pretty unique stuff, and way ahead of its time.
Gabe has said that 'A Journey to Happiness Island' is a study of the production styles and structure of children's records like those of Bruce Haack and Harry Nilsson's 'The Point!'. He even refers to it as 'the children's record', although it is certainly NOT a record for children.
Like 'The Point!', it is structured as a storybook with songs. The mischievous Mr. Tadpole sets out to find Happiness Island, convincing his new friends Billy, Dr. Esophagus, the Sunflower Girls and Mr. Chipmunkee to come with him. Along the way, there are songs about free association, quantum mechanics, and how 'People think that chipmunks have high voices, but they don't'. All pretty important stuff. Mr. Tadpole is an enthusiastic and convincing expedition leader, so when he demands that his friends participate in free association exercises or listen to a lecture about Werner Heisenberg it all just seems like part of the fun.
After being chased by the evil Shackmoss into the damaged spleen which leads to the gates of Happiness City, things get very strange very quickly. Please take note of the wording of that sentence: things get strange AFTER the damaged spleen. Just after the beginning of Side Two of the record, the strange coalition of adventurers finds itself standing on the threshold of their destination... So now what?
Something awful. Several awful things, actually. Turns out Mr. Tadpole had a pretty specific reason for wanting to come to Happiness Island. Turns out Happiness Island, which lies at the end of a fantastic but perilous journey, is not terribly big on happiness. Turns out that Tadpole's father, the mighty King Frog, rules with an iron fist: "We use your sweat as shower water/On Happiness Island!" Or, "We make soup out of children's eyeballs!" Tadpole reminds everyone, in song, that if you 'Set your sights a little lower, you might just get what you're looking for', before belting out a show-stopping number about how 'Your mommy and your daddy cry all night because they set their sights too high'.
'A Journey to Happiness Island' was written and recorded over the course of one weekend in New York in 2000. Gabe and Malcolm wrote all the songs; Gabriel sings the parts of most of the characters, and production wizard Malcolm (who moonlights with his electronic side project Lineland) mixed it. There is a handful of other singers and musicians, including Levi Fuller on saxophone. The songs are cute and clever and very funny and more than a little silly, and definitely feel more like a moment in time rather than the product of months of labor.
I found this piece in a used record store on Hawthorne; the first record I bought after moving into my first apartment in Portland. I played it for my wife on the day we met; she was just as in love with it as I was, which just goes to show I picked the right one. I didn't know anything about the people responsible for it until years later, when my wife followed a strange trail of clues to an email address for Gabriel Boyer and sent him an email asking for the album in a digital format, so we could load it onto my iPod and listen to it while we were tromping through the woods on acid. Gabe was so excited to discover he had not one fan but two, he retrieved the mp3 files from Malcolm and sent them to us.
Years later, Gabe is a dear friend of ours. When he speaks, it is with the voice of Mr. Tadpole, and sometimes when I'm stoned enough it can be pretty disorienting and vaguely menacing. Gabe has several other albums under his belt at this point, including his 'Sci-Fi record', his 'Chinese record' and his 'free jazz record'. He's also written several books, directed a film ("Free Thinking Man as Commodity"), and is presently working on a sitcom about superheroes. Gabe does these things with the sure knowledge that they will never be widely seen, heard or acknowledged.
The story of this review is really a story about me, though. 'Happiness Island' is not as accessible as the Steve Burns record; it doesn't have the cultural significance of a Residents record. It doesn't have the indie sensibilities that might endear some of the other records I've written about to some of you guys, although as independent releases go this is as real as it gets: Gabe alternately fights wildfires, works on fish canneries in Alaska or teaches English to children in China to raise the capital to release his work. 'Happiness Island' to me is the perfect microcosm of the experience of listening to music. When you find a record on your own, with no prior knowledge of the music or the artist, and you take it home and REALLY connect with the music... There is a feeling, one of the rarest in the world, where you feel like you've chuned in to some alien transmission and you are hearing something that has never been heard before. Sometimes you'll run yourself ragged trying to consume every detail of the record, and then go outside of the disc itself and find what else the artist has done, read reviews, talk to friends about it, and ultimately pop the bubble because you realize that sure, one of your buddies has had that album for years and "Yeah, it's alright".
Gabe has told me that there are still many, many copies of 'Happiness Island' in the basement of the house he lives in. Somehow, one used copy found its way into the now-defunct Reverb Records in Portland and into my hands. I made a life-long friend because of it. It is one of the greatest myths of the early days of my relationship with my wife. It's more than a record, it's a talisman, and it really is all mine.
Signing a copy of his massive book 'A Survey of My Failures This Far' for me the last time he stayed in my guest room, Gabe told me "If you read this whole thing, you'll be the only one." My very own alien transmission.
NOW AVAILABLE IN DIGITAL FORMAT! But don't be lame, the vinyl is really cool and is not much more expensive. Sample some of the music at Mutable Sound by following the link below.
www.mutablesound.com/home/?p=2051