Post by Friendly Destroyer on Jun 25, 2012 10:10:10 GMT -8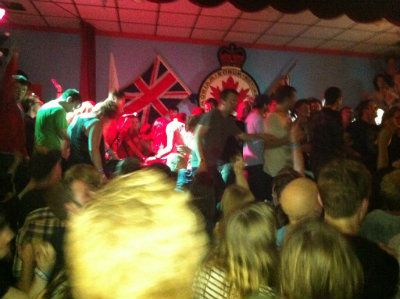 Andrew WK is under the Union Jack flag bashing away on his keyboard.
This shit was insane. He curated that the whole night, as I was told by my Sled Island musical advisor Souly, and holy shit did he ever do things fucking right! Normally when it comes to music I feel like I have a pretty fair handle and ability to draw distinctions between shit shows that are fun because you are at a shit show and
real
shows. Normally I have a fuckin' blast at the shit shows but then will almost forget them entirely a week later. This was different. It was the perfect mix of artists that just wanted to give the crowd the best night of their lives. It is easy to say that, "well anyone who hopped up on that stage and gave you phat beats, stage dancers and raging guitars would have you saying the same thing". Not true. The bands were all having a blast and putting on something special. I lost the Wompster crew at one point, this place is so small but shit was bouncin' so much that it made losing people possible, and wound up dancing with these people who were having the time of their lives dancing all smooshed up on the side wall. Turned out they were all in the next band.
The best part is that none of us, or well probably just me, knew that these bands were going to throw the nuttiest dance party ever. We went super early to get out of the rain and thought we wouldn't be having crazy fun for at least another 2 and half hours. I knew it was going to be good when I was so excited and surprised that Aaliyah's "Back n' Forth" came over the sound system and started dancing like a fool in my chair (rollin' dem shoulders, playa). Then I turned to Souly and was like, "Are you hearing guitar solos???" then we look towards the stage and saw a weirdo with the cheapest guitar ever, face paint, no pants, and a boxing robe on shredding his face off to Aaliyah and
then
his drum machine kicked in when chorus bass drops and I never sat down for the rest of the night!
It was extra magical because I was exclusively listening to R. Kelly, Beyonce, and one of my most prized possession playlists called "90's Rn'B" on the drive down to Calgary. Anyways, "Back n' Forth" came on and as always I was dancin' in my car when I was getting beeped at and signaled by a car that was next to me. At first I thought my tire must be flat or some other terrible car mishap was going on. Instead they just wanted to get my attention to give me props on my serious car groovin' moves! It was awesome. It all bookended itself too by me and Womp singing "Ignition (remix)" down the streets of Calgary with a mystified Souly on the way to his apartment. Good times.