Post by kymess_jr on Jun 19, 2012 19:46:38 GMT -8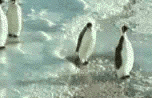 What I don't agree with is there is a clinic here in Vancouver that is meant for women but their policy states that patients must have been born female. So that means any male-to-female transgenders that are legally considered women (post-operative) can't get service but a female-to-male transgender can walk right in. And unfortunately it's a bit of a sticky point as someone in my extended family is the person who ran this clinic and came up with the policy, which made Christmas dinner conversation quite exciting one year.
Is this a non-profit or government run place? If it is non-profit I wonder if securing funding had anything to do with this? It's so terrible and unfortunate but you are way more likely to receive funding for a male services facility than you are for a woman's. I am currently working in such a place where we were only able to receive the needed funding if we ran a male only facility. It's always hard to compromise your integrity and beliefs in such matters but it is often a necessary evil in order to get a successful program running and hope to convince your funders of the need to open the services to women once they have trust and faith in your program. I'm happy to say we have been given the go ahead to open a second facility next year that will accommodate both males and females. It took 3 years to get this.
I do believe it's a privately funded facility, so you're probably right.
There's also some personal issues tied up in this for me 'cause it just bothers me quite a bit about how the person who ran this facility viewed transgender people in general. For instance, if a male-to-female transgender is legally considered female and had been leading a life as a woman for many years, this person refused to use feminine pronouns or in any way acknowledge her as a woman. And that's part of why female-to-male transgenders were granted permission to use the facility, because they were viewed as still being women. And yet, this person is a major advocate of gay rights even though they refuse to recognize the exsistence of transgendered people.