Post by Horned Gramma on Nov 19, 2010 9:43:49 GMT -8
11/19/10Future Bible Heroes - Eternal Youth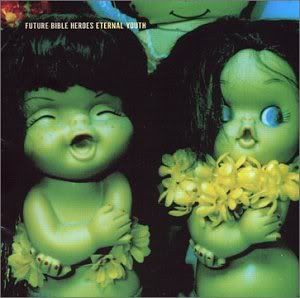 I used to love Stephin Merritt more than I do now. It's an interesting situation because up until 1999 his albums released under the Magnetic Fields name were all really fantastic in their own way - 'Get Lost' and 'The Charm of the Highway Strip' are classics - and then he released '69 Love Songs' and it was like he had written every Magnetic Fields song there ever needed to be. He's done some really interesting work since then, but really none of it has been with the Magnetic Fields. 'I' and 'Realism' and most of 'Distortion' were dreary and self-indulgent, but the music he wrote as the Gothic Archies (for the 'Series of Unfortunate Events' audiobooks) is really sweet and a lot of fun, and this album - which I think was the first music he released after '69 Love Songs' - is probably my favorite thing he's ever done.
Like every Stephin Merritt record I can think of, the lyrical content adheres to a theme, which as ever is helpfully indicated by the title: 'Eternal Youth'. The characters that populate these songs are each in their own way striving to remain young forever. Not just to live forever, but to stay youthful and beautiful. There turns out to be a lot of ground to cover there, and it helps that Merritt at this point was still more whimsical than dour: we have a woman who clings to her youth by taking "A Thousand Lovers in a Day", and there is a woman who grows old and marries and dies telling her husband to "Kiss Me Only With Your Eyes", forever maintaining her purity (even shunning Jesus himself when she gets to heaven and He tries to give her her wings).
A suicide case. A youthful, androgynous alien. An eternally fabulous vampire, who gets a full-on disco dancehall number. Merritt wrote these songs with electronic musician Chris Ewan, a kind of dimestore Eno (I know I reference Eno a lot, but it's hard not to) who creates some really beautiful sonic palates that Merritt's lyrics and vocal melodies bring structure to.
Merritt doesn't sing on this one, which depending on how you feel about his affected bawling is either a good thing or a bad thing. I don't mind his voice, but I do think it's best taken in small doses (something he thankfully acknowledged when recording '69'). Instead these songs are all sung by Claudia Gonson, who is the Magnetic Fields' drummer and whose voice you'll recognize from several tracks on '69 Love Songs': "Yeah! Oh, Yeah!", "Come Back From San Francisco", "Reno Dakota". Altogether it's really different from what you generally expect from one of Merritt's records.
A lot of people will point to "Papa Was a Rodeo" or maybe "Busby Berkeley Dreams", but in my opinion the finest song the man ever wrote was on 'Eternal Youth'. "Doris Daytheearthstoodstill" is the story of aliens in deep space receiving television transmissions from half a century ago as they continue their journey out into the universe. These creatures, which seem to live a life that resembles a fly trapped in amber or maybe a deep sea fish, are seeing the face of Doris Day for the first time and falling in love with her. The transmissions that show her slowly aging will come eventually but are still a couple years away; the beautiful, young Doris Day will live forever as she blasts through the void.
This isn't an official video, but I kind of like it. The audio clips from the movie aren't on the album, but I don't think it detracts too much. Enjoy!