Post by Horned Gramma on Nov 15, 2010 9:20:13 GMT -8
11/15/10The Philistines Jr - If a Band Plays in the Woods...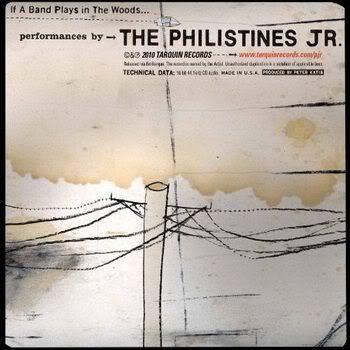 This record has been out for less than a month and it is already permanently a part of my Top Five Ever list.
There are albums that you call your favorite during a certain part of your life, and five years later the reaction you have to the music is more nostalgic than emotional. Probably 'In the Aeroplane Over the Sea' is that way for a lot of us; I know for my part I can hardly stand to listen to it anymore for all the memories it conjures. The thing that made 'Aeroplane' so special for me, and for a lot of people, was that when I found it it was completely MINE. Nobody I knew for hundreds of miles in any direction had ever heard of it. I thought it was just a strange, beautiful thing that had found its way to me and nobody else. This was in the couple years after it came out, since then of course it has become inescapable. But the other day I was thinking about the records in my collection that I would have chosen as subjects for this column were I writing it ten years ago: 'Castaways and Cutouts', 'Coquelicot Asleep in the Poppies', 'Electro-Shock Blues'.
It's a heartbreaking thing to have a band that you've loved so intensely, and so vigilantly and ferociously promoted to your friends and anyone who will listen, suddenly catch on and become part of the collective consciousness. Nobody says thanks for the recommendation. Sometimes when a person tries on the 'I loved these guys when nobody knew who they were' routine, it is an expression of deep sadness and loss and not a credibility grab. Trust me.
So about two months ago when a news story popped up on Pitchfork about the new Philistines Jr album, I started bracing myself. This is The Music that got me through more hard times than I can even remember right now. For more than ten years, I've gone through copy after copy of the handful of records they have released since the early 90's. This one, to me, is really something special.
As I've mentioned elsewhere, the Philistines Jr consists of brothers Peter and Tarquin Katis and drummer Adam Pierce. Pierce is the drummer for Mice Parade and runs FatCat records. Peter Katis is one of the best and most respected producers working today. He produced the first two Interpol albums, as well as records from Jonsi, Frightened Rabbit, Tokyo Police Club, Tapes n Tapes, and the National -- including 'Alligator' and 'Boxer', which I'm sure we can all agree are two of the best sounding records of the last decade. The photograph on the front of 'Boxer' is the National performing at Peter Katis' wedding.
Being in the middle of so many success stories and armed with music as sincere and finely constructed as that of the Philistines Jr is, I honestly can't fathom why they are completely and utterly unknown. Even among the hardest core, aggressively well-informed music people I know the name gets a shrug. I'm going out on a limb letting you in on the secret because my heart would break if after twenty years the Philistines Jr. suddenly caught on.
Structurally, this is pop music. Overall much more accessible than most of what I've written about here. Guitars, pianos, a theremin for a touch of class. There's also a Dewanatron, but my feelings regarding Brian Dewan are for another day. Lyrically... Well, the Philistines Jr only write songs about themselves, specifically. Katis' lyrics at this point are concerned with the frustrations of being a producer, or at litterbugs and road rage in his neighborhood, or just about getting older and figuring out what to do next.
It hits me on a gut level, and hard. I can't figure out if it just doesn't have the same effect on other people or if some friendly, innocuous band from Connecticut has just never had enough circulation for people to love them the way I do. Several times, in several songs over the course of this record, a verse will be banging its head on the keyboard almost as if in despair, only to launch into the same chorus:
Hey! Hey! It's the end of the world again
Here we are just waiting for everything to end
It means something a little different every time. I've listened to this record at least twice a day since it came out mid-October. Not only because a recurring lyrical theme over the course of PJR's career is that 'If you hear it enough times you'll like it more' is something that I really believe is true (and is ultimately the flaw with digital music; people's ability to amass a record collection in an afternoon that would have taken twenty years at one point = less quality time spent with difficult records), but because the 'End of the World Again' chorus has started to sound very, very reassuring to me.
It's hard to explain. This review is less focused and more emotional than some of the others have been, but that is what I was hoping to get down. I'm in the honeymoon phase with a record that I know will be in heavy rotation for the rest of my life. I know it like I knew it the first time I heard 'Ziggy Stardust' and 'Dark Side of the Moon'. But it also has qualities of the consuming love affair I had with 'Aeroplane' ten years ago - it's all mine. Nobody else's opinion of the record can inform how it makes me feel, because I don't know a single soul who's heard it (besides Peatrick).
It really is a beautiful album, and against all my better judgment I'll say that I can't recommend it enough. I'll even post a link to a place where you can stream the whole damn thing, I'm just that kind of guy. Do me a real favor though, on just this one record: if you like and want it in your collection, send the Philistines ten bucks for it.
tarquinrecords.com/pjr/frames.html?media