Topic Summary
Posted by emptyfox on Aug 24, 2012, 1:52pm
I'll be too busy inflating inflatables from Chromeo to watch the Hip!
Posted by davers on Aug 24, 2012, 3:14pm
I just spent $180 on booze for a 2 day music festival. That's normal, right?

Empty I will see you at chromeo if not before, you coming up tonight?
Posted by emptyfox on Aug 24, 2012, 3:19pm
Nah, tomorrow morning. We're camping in a friends backyard... I'll shoot you a text on Saturday for sure!
Posted by NO LOVE DEEP BJORRITO on Aug 25, 2012, 8:51am
HEY PEA LET'S GO TO PARIS AND GO GORILLAS

http://pitchfork.com/festivals/paris/2012/
Posted by Pea on Aug 25, 2012, 11:10am
Haha what? Okie dokie let's go!
Posted by Horned Gramma on Aug 25, 2012, 12:06pm
That is a rad fucking lineup.
Posted by emptyfox on Aug 26, 2012, 3:40pm
So Live at Squamish:

A pretty spot nestled in the valley, surrounded by jagged mountain peaks. Hippies, lots of families, lots of beer and good music, and like NO SECURITY at all.

I'm sure kymess will tell you the whole story when she gets back, but she got a weekend pass and camping (I think) for free for the whole weekend. I was walking back and forth to the camping area with Davers, all the while carrying a backpack full of beer that we were drinking openly in the festival without anyone saying so much as a peep about it. It was kind of ridiculous. I'm sure I could have gone back down there today and gone to the show for free, but we're tired so fuck it.

Chromeo, as usual, were amazing. Charles Bradley, LP, Lights, and the Sheepdogs were all pretty great too. And the Hip? Ya, they were pretty much the most boring thing ever last night. Totally forgettable in what was otherwise a day full of great performances.

If you like Sasquatch, which I know we all do here, I think you'd all like this festival. Beautiful setting, a lot quieter, great local food and little shops. It was a nice change of pace from Coachella. I think I'll definitely be back next year.
Posted by kymess_jr on Aug 27, 2012, 12:45am
Well, it was a fast and blurry two days but another successful Live at Squamish has finished (for me)! The music was great, the location was breath-taking, the people were fantastic and hilarious! This festival is the perfect pick me up for the Sasquatch blues that start to set in around now.

I love that it's still really small, making it easy to get up close or move around the grounds easily and keeps the vibe that much more casual all around, especially in the campground. The regular camping was completely the definition of District 9 this year though. I can't believe how packed in everyone was! I'll be back for sure next year, and after experiencing the VIP camping I think I'll actually spring for it too (my turn next year Davers?).

Fox! I can't believe I never got to see you. It's probably my fault since I was actually looking for you at one point, I musta jinxed it. But you are very right about the security, and just the staff in general. They were wonderfully helpful and friendly people but it seemed like they really didn't care about the "rules" of the fest at all. I watched a girl in front of my friend get her bag searched and the first thing the security guy pulled out was a bag of about 10 or so pills. The guy just smiled, put them back and said "it's good to see you packed your vitamins."

And then on the Friday I had to buy a ticket to get in since I only had a ticket for Saturday. When I handed the girl at the gate my ticket, she went to give me a wristband and in my higher state of mind I honestly told her I wasn't supposed to get one since it wasn't a weekend pass. Her response was simply "everyone gets a wristband." We went back and forth on this several times with me trying very hard to get her to understand until I eventually gave up and took the weekend pass. And then of course there was the camping, which it turns out having a wristband for it seemed to be only a loose suggestion...

And for that I owe a HUGE thank you to Davers for letting me share his camping!! You and your crew were a blast to hang out with! And you need to post that picture you got of the guy crowd surfing on an actual surfboard during Chromeo.

Posted by emptyfox on Aug 27, 2012, 11:46am
Where were you on Saturday? I was back at davers camp for while and saw Davers like 4 or 5 times, and you were nowhere to be found. I kinda Dr. Garbanzoured if I found one of you I'd find both, but no luck... Oh well, next time!
Posted by Horned Gramma on Aug 27, 2012, 12:00pm
Slappa da bag
Posted by kymess_jr on Aug 27, 2012, 9:17pm
Haha, no slappa da bag this time. I save that tradition for American festivals. But I did move around a lot on Saturday, I was running all over visiting friends. Davers told me I had just missed you when I went to find pants. My pants journey took like an hour though.
Posted by davers on Aug 27, 2012, 11:13pm
My brain is still a big puddle of mush right now, but here's the picture of the guy doing a literal crowd surf during Chromeo. Somehow he got a full sized surf board into the festival.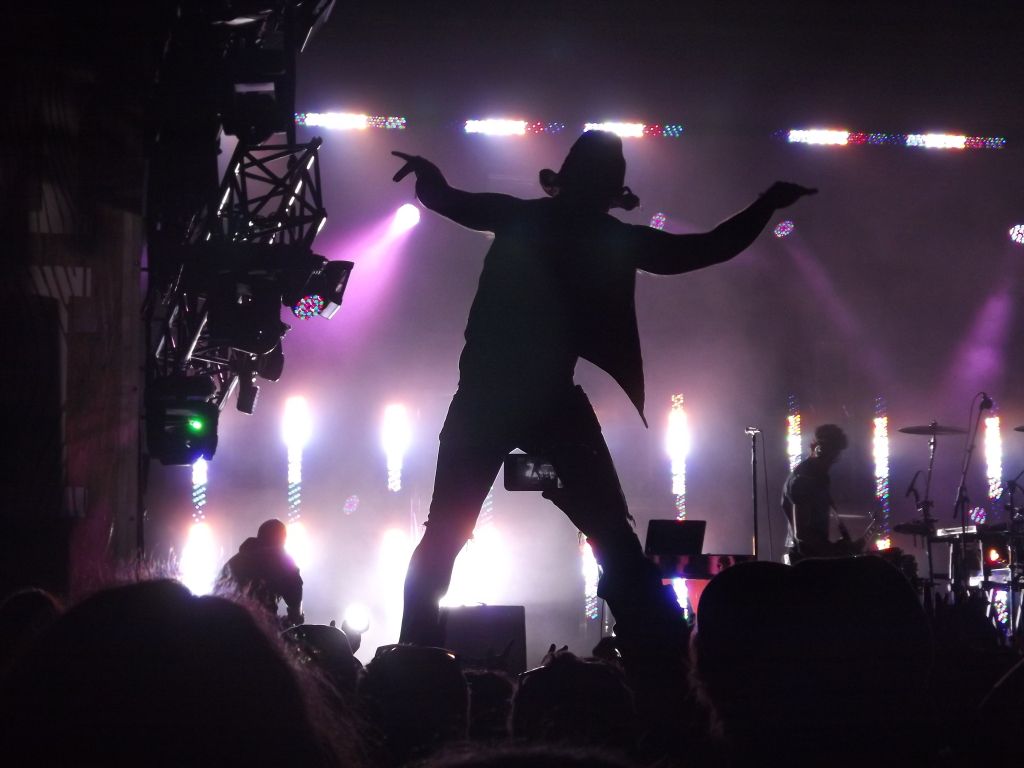 Empty and KY I can't believe you guys didn't see each other the whole time, it felt like I spent hours with each of you but it was never at the same time.

Empty found me during the Hip and stole some glowsticks out of my pocket then came back a minute later asking for connectors (that was you right?) and then we found ky at Chromeo but Empty was not where he said he would be. (His exact words at the Hip, "We're going to Chromeo, we'll be right here but at the other stage", which was of course left of the sound stage).

You didn't miss much on the second day, a couple of my friends didn't even make it into the fest until past 8 because they weren't interested in seeing anything. Day 2 highlights were the Motown Tribute to Nickelback, a DJ named Mark Farina who woke me up after I sat through 3 City and Colour songs and the Pack AD.

Turns out my future wife is the lead singer of the Pack AD and I spent a good 2 hours wandering around the staff camping at night because I thought she would be staying there.

OK, sleep now.
Posted by Horned Gramma on Aug 27, 2012, 11:56pm
That looks like the silhouette of Sloth from The Goonies.
Posted by Shaxspear III Esq. on Aug 28, 2012, 1:17am
Hahahahahah he's right!!
Posted by emptyfox on Aug 28, 2012, 1:30am

Aug 27, 2012, 11:56pm, Horned Gramma wrote:

That looks like the silhouette of Sloth from The Goonies.



Hahhahah yes!

Davers, we started to go there but when we got to Chromeo there was still a chunk of rail available, so we took it. Sorry.