Topic Summary
Posted by davers on May 18, 2011, 12:39am

May 2, 2011, 7:31pm, emptyfox wrote:

This song is guaranteed to be stuck in my head for a week now.



Man I just read the last few pages of this and I deffinently saw that guy do stand up in Penticton (a little town in the BC halfway between Vancouver and Alberta) at a pub while away for work about 6 months ago.

Sad to say, while the rest of the comics were fantastic, he pretty much sucked. I think he did too much coke before the show because he just yelled the whole time and sang a few songs.
Posted by DREW OF THE RUSHES on Jun 15, 2011, 12:20am
Nov 5, 2010, 10:24pm, topspin wrote:
KnowIdYuh , you should delete the last two words of this threads title.
Posted by Horned Gramma on Jun 15, 2011, 10:00am
Fa fa fa. It just so happens that this week I finally managed to back up my mp3s on my laptop, so expect to see some more action here fairly soon.
Posted by DREW OF THE RUSHES on Jun 15, 2011, 3:05pm
Cool
Posted by mrmoon1 on Sept 28, 2011, 3:50am
I've been slowly making my way through as many of these as I can listen to and have definitely enjoyed the info and exposure to new music. Just wanted to thank you for taking the time to post all of this HG.
Posted by Horned Gramma on Sept 28, 2011, 9:54am
Thanks Mr. Moon! I really had a lot of fun with some of these, I'm glad other people enjoy them too.

Anything in particular strike your fancy? Just out of curiosity.
Posted by mrmoon1 on Sept 28, 2011, 4:22pm
I've only made it through the first 4 pages and haven't listened to everything, but so far I would say The Philistines Jr., Clem Snide and Self would be three that I'm enjoying the most.

Also The Residents but I've been listening to them since you first mentioned them months ago.
Posted by StormyPinkness on Sept 28, 2011, 4:35pm
Great choices, mrmoonsovermyhammy!
Posted by Horned Gramma on Sept 29, 2011, 7:47pm
IN THE MAIL TODAY: The Philistines Jr.'s The Sinking of the S.S. Danehower on vinyl! Something which just two weeks ago I didn't even know existed, couldn't have even hoped would exist.

Absolutely one of my top ten favorite records of all time; it looks and sounds beautiful.
Posted by Horned Gramma on Dec 25, 2011, 11:35pm
[spoiler=Happiness Island Cover Art]
[/spoiler]

Our friend Gabriel Boyer, the man responsible for this record which we discussed ages ago in the early stages of this column, gave my wife and I pretty much the greatest Christmas present I have ever received.

The artwork for A Journey to Happiness Island was a hand done collage made by Mr. Boyer himself. Gabe is working in China at the moment, but last night his brother met us for drinks in Portland and brought us the original piece of art. I'll post pictures when I get a chance, but it is beautiful beyond description and is by far the coolest thing I own. One HELL of a thing.
Posted by StormyPinkness on Dec 26, 2011, 12:00am
It is so wonderful.
Posted by Friendly Destroyer on Dec 26, 2011, 12:02am
That is fucking RAD you guys!!!!
Posted by J. Walter Weatherman on Dec 26, 2011, 12:11am
Seriously pretty much the coolest christmas present anybody got this year, if I had to guess.
Posted by StormyPinkness on Dec 26, 2011, 12:54am
I am just floored by it.
Posted by Horned Gramma on Jun 8, 2012, 4:03pm
6/8/12
Ween: In Memoriam


The mighty fucking Ween is dead.

This is old news by the time of this writing, but my love and respect for Ween is substantial enough that I felt the need to say a few words on the subject. It was a bitter fucking pill to swallow -- having just crawled out of my mind on the Tuesday afternoon following the 2012 Sasquatch! Festival, the last words I expected to hear my wife say were these: Dude. Ween broke up.

My serotonin levels at that moment were not sufficient to appropriately process the information. I felt a distinct sense of loss, and just below that a sickening sense of surprise that felt more like deja vu. Because all of the signs were there. They had been for years, and we had ignored them.

Ween has been the recording project of Gene Ween (Aaron Freeman) and Dean Ween (Mickey Melchiondo) since 1984, when the two met in an 8th grade typing class. As legend has it, during one of their early drug-fueled recording sessions they were visited by the demon god Boognish and commanded to be the Brothers Ween for as long as they both walked the earth.

I have clung to that fragment of Ween lore for my entire adult life, which is why I was so blindsided by the news of Ween's breakup when it came. Although they hadn't released an album since 2007 (La Cucaracha, much better than it gets credit for), Ween has been touring relentlessly for the last five years -- I had the opportunity to see them no less than three times between May 2010 and July 2011.

Ween's drug usage was legendary, whether they were in the studio (listening to 1991's The Pod will cause your spinal fluids to run backwards) or on tour: a 2006 performance in Bend, Oregon featured a five minute set break, at the end of which Deaner returned to the stage grinning and saying 'It's probably all that ecstasy we just smoked'. My wife also tells the story of one of her old college friends being arrested for hauling cocaine for Ween through the Southern states while following them on tour. So after nearly thirty years, you'd think they'd have become old hands at living the rock and roll lifestyle. Right?

Wrong. There are no 'old hands' at living the rock and roll lifestyle. You can bet Keith Richards isn't riding the white tiger before he takes the stage anymore. The first sign that something was wrong came during a 2009 performance, also in Bend, when Ween took the stage and from roughly ten rows back from the stage I couldn't recognize Gener:



Feelin' like a big fat fuck.

I stood there wondering where he was, and wondering who the fat, Jon Lovitz-y roadie was that was wandering around on-stage after the opening riff of 'Buckingham Green' had started. When I realized that Gener had gained almost sixty pounds since I had seen him last about eighteen months before, I was worried... But then the band tore the sky off of the Les Schwab Amphitheater and I forgot all about it.

Canada Breaks Ween

Ween's performance at the 2010 Sasquatch! Festival is legendary among the one hundred and seventy-two people who stuck around to witness it. Gener was back in Dr. Garbanzohting shape, and in spite of a relatively safe setlist they sounded tight and furious. Less than a year later, Ween announced a show at Portland's Crystal Ballroom and I was quick enough to grab a pair of tickets before the scalpers could snatch them all up. Just before that show took place, however, came the distressing news of a legitimate on-stage meltdown in Vancouver, B.C. in which Gener, in a drug and alcohol fueled haze, couldn't remember the words to his own songs. The rest of the band eventually abandoned Gener to attempt an acoustic solo set. Fans were pissed, the band was pissed, and photographic evidence proves that they were absolutely within their rights to be.



It's gonna be a long night...

The Portland show two days later was different than any other Ween performance I have ever seen. Over the course of the performance, Gener wandered from one bandmate to the next, made long and sincere eye contact with each of them, and appeared to be making a silent apology to his colleagues for his behavior in Vancouver. The instrumental guitar duet 'Ice Castles' (from White Pepper) took the form of Dean and Gene standing facing each other center stage, looking each other directly in the eyes, as the two slowly, deliberately and publicly made their peace with one another. It was a nearly sexual moment between the two old friends, and it is one of the greatest things I have ever seen. Unfortunately, the damage was done, and it was deep. After the Vancouver incident, Gener seemed to realize that he was on the razor's edge of a legitimate rock and roll tragedy. In order to save Aaron Freeman, he had to take Gene Ween out back behind the barn and put one in the brain.

The rest of the story is pretty straightforward. Following Ween's 2011 tour, Gener checked himself into rehab and came out having meticulously unburdened himself of his alter-ego. His comments to Rolling Stone about his decision to retire Gene Ween read to his fans as, "I can't do this sober, and if I keep it up it will kill me." He was undoubtedly right.

Which is why it stings so much. Technically it is just the end of a long-standing musical collaboration, but deep down the members of the Church of Boognish know that one half of Ween is truly dead. One listen to Aaron Freeman's recent solo album Marvellous Clouds is proof that the insane machinations that used to animate Gene Ween onstage have been dismantled and buried deep.

Viking Funeral

All that was left to do was to mourn. All of the steps of the grieving process were observed: denial, in the car all the way home from Seattle. Anger: righteous fury over Gener's refusal to acknowledge the commandments of the Demon God Boognish. Acceptance, well... let me tell you, it was hard to come by. The only way I could dredge up acceptance was to get down and brown -- in other words, it was time to get really fucking high and listen to some Ween records.

We came home from the 2012 Sasquatch! festival with a little bit of leftover blotter acid, which incidentally was the most intensely powerful acid I have ever taken. We started out by spinning the live internet broadcast recording All Request Live, and by the time the drugs had taken hold we were buckled in for a very long evening. I tucked a little pair of battery powered speakers into my satchel and we wandered around our little neighborhood, undoubtedly looking like space cadets, listening to one record after the next at volumes as high as propriety would allow.

We explored the beautiful rhododendron garden up the street as we listened to Ween's late-career masterpiece, 2003's Quebec. We sat on a bench and watched a family of ducks while we giggled through the rarities and b-side compilation Shinola, Vol. 1, and then stumbled up the street to an adjacent golf course.

By this point we were tremendously high; tripping nearly too hard to function in public. We sat and listened to the end of Shinola on the edge of a golf course; I made the comment that there are 'No Ween songs about golfing -- and now there never will be.' For the rest of the night, nearly every Ween song was about golfing.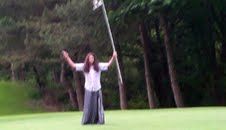 A Ween song about golfing.

After three hours or so, I realized that I was still on the ascent -- and also that there were actually people attempting to golf -- so we decided to point ourselves towards home before I took my pants off in the street or something.

For the walk, we chose The Mollusk -- the true favorite of most Ween die-hards, including Deaner himself. The turning point of the trip came right in the middle of that record, following the nautical silliness of 'Polka-Dot Tail' and the proggy perfection of the title track, when the simple and beautiful ballad 'It's Gonna Be Alright' came on. 'It's Gonna Be Alright' had always sounded to me like an apology song from one lover to another, but in that moment I realized that it was almost as if Gener had looked fifteen years into the future when he wrote it, anticipating his decision of last week. It was an apology song to Deaner, his life-long friend. The wind picked up and it began to rain, cooling the sweat on my body. I held it together until the last chorus faded, and then I had to stop. Right there on the street, my arms dropped to my side and I buried my face in my wife's shoulder. I was suddenly sobbing uncontrollably, and the only words I could manage were, Oh man... why? I understood then, and that understanding remains -- And if the mist ever lets the sun through/I just hope I did the right thing for me and you.

It warmed my blood, and I could feel it happen, literally like the sun appearing from behind a cloud on a grey and windy day. Having broken the dam and finally having located the emotions I had been feeling since hearing the news, the rest of the night involved intense and focused studies of nearly every Ween track ever recorded. 'Cold Blows the Wind' (according to Gener, "a song about a dead bitch"), follows 'It's Gonna Be Alright' and I went from warm and sunny to cold and damp almost instantly. It started to rain in earnest, so we locked ourselves in for the night.

White Pepper sounded beautiful and the production was crystalline, as has ever been the case. The true surprise of the evening, however, was La Cucaracha -- as I said, MUCH better than it gets credit for. I told my wife as we were listening to it that I remember hearing it for the first time, and asking myself during almost every song "What kind of a Ween song is this?". Turns out, it is their brownest record since Chocolate and Cheese -- seriously, it gets weird, and I didn't even realize it until I heard it with the right ears. There is a straight-faced lullabye, a truly greasy sounding song about a serial killer ('Object), some kind of ridiculous Yanni-meets-Eiffel 65 journey ('Spirit Walker'), and a ten minute face melter of a guitar solo in 'Woman and Man' that I could swear to Christ wasn't there the last time I listened to that record. By the end of 'Woman and Man' I was on my back on the floor, writhin' and squealin', pawing at my face and kicking my legs in the air. When the insanity finally let up, I took a look at myself and understood why they had named the album La Cucaracha. I was in exactly this position:



Hit me again! Ow! Stop it! Ahhhh, hit me again! OWWWW!

Following La Cucaracha, we decided it was time to get serious and jump into The Pod. As I mentioned, The Pod will jam your signals even if you are stone sober -- under the circumstances, the music on that record was literally twisting my spine. It is by far the 'brownest' of Ween's records, reputedly recorded under the influence of huffing Scotch Guard fumes. To the uninitiated, The Pod hardly sounds like music; I have friends who are serious fucking Ween fans who can't even stand to listen to it. It is a bizarre, often ugly record that induced full-on freakouts and left me determined to throw a dinner party for my friends at which we would serve mail-ordered pork roll, egg and cheese on a kaiser bun (this is actually going to happen, by the way, and you are all invited). There was a track in the middle that I would swear on my mother's good name I had never heard before. This was the one of the highlights of the evening.

Then we listened to Pure Guava. Things got personal at this point; I will spare you the dirt. Trust me, you all prefer it this way.

It was getting on towards 3:00am at this point, so we decided to bring things back down to earth with the classic, Chocolate and Cheese. Many of Ween's greatest songs are on Chocolate and Cheese, and in spite of some deeply weird shit like the menacing 'Spinal Meningitis (Got Me Down)' and 'Candi', it was a much needed cool-down after our time served in The Pod. The closing refrain of album closer 'Don't Shit Where You Eat' gave a glimmer of hope, and I found myself suspecting that one day Gener and Deaner would reconcile and the mighty fucking Ween would return to the stage as conquering heroes.

We Had the Best Time at Your Party

Ween is done. For now. I guess Phish broke up for most of the 00's for similar reasons; Trey got busted for some drug-related charge or other, and he had to get his shit straight before they could fire the machine back up. Aaron Freeman, as I am still loathe to call him, is still alive and hopefully still conscious of the commandment made by the Boognish when he was a young man and once he gets his feet back under him we all might have another chance or two to stand in awe as Deaner tears the breakdown of 'Voodoo Lady' into tiny pieces. It's been a hard couple of weeks; there are only two bands that have ever existed whose end would hurt me more than the end of Ween has. The Residents are getting on in years, but They Might Be Giants are still relatively close to their prime so I'm hoping I won't have to deal with this feeling again any time soon.

Ween were fucking kings. I stole this descriptor from a tremendously shit-faced bro during Ween's Sasquatch! appearance, a man who in spite of seeming to know the words to every song they played couldn't quite recall the name of 'The Blarney Stone' ("PLAY THE BAR SONG!!", he bellowed through the entire performance). It is true. Ween was an endlessly inventive studio band, and truly among the mightiest performers I have ever witnessed. Ween was a band who, when you got a chance to see them play, it didn't matter one single shit what was on the setlist because every song they played would catch fire the moment they launched into it.

I will miss them. I will tell my children about them, and I won't skimp on the details that I just shared with all of you. I will never forget stealing an old dubbed cassette from a friend in eighth grade which had selections from The Oneness and Pure Guava on it, and realizing in that moment just how weird greatness can sound. I will never forget hearing 'Little Birdie' for the first time and realizing that I was in love with something that my parents must never know about. They already worried about me enough as it was. I will never forget playing 'Piss Up a Rope' for my father on the drive home from a Rage Against the Machine concert in 1998, and seeing him laugh so hard that he had to pull over on the side of the road -- when he came out of his hysterics, I had to drive the rest of the way because he had developed a migraine.

This has become quite long. If anyone has actually read it, understand that this is a first and only draft -- unfiltered and entirely honest, as I prefer it. Maybe Ween will return; maybe they won't. I hope to god they do, but if not then I will be happy with the knowledge that I have stood in the presence of true greatness.

Ween is dead.

Long live Ween.