Topic Summary
Posted by DREW OF THE RUSHES on Mar 4, 2011, 2:28pm
That's awesome. Love this album
Posted by njoh on Mar 4, 2011, 6:19pm
Just wanted to give a BIG thanks to gramma for this thread. I've been lurking for over a year now, and this thread plus a bunch of other posts from you have introduced me to Ween, Dan Bern, Clem Snide, The Philistines Jr, The Flaming Lips and countless other artists that my young self would never have known, or at least I wouldn't have dove into them as I have.
This thank you is long overdue as I have been loving these chunes for some time now. Keep up the awesome work and know that there are people getting a lot from your write-ups.
Posted by Horned Gramma on Mar 4, 2011, 6:24pm
All I ever wanted was a few more Philistines Jr fans out there. Sincerely.

Thanks njoh. More to come.
Posted by Horned Gramma on Mar 17, 2011, 11:36am
3/17/11
The Residents - Demons Dance Alone


It's Residents day. I've been putting off writing about Demons Dance Alone since I started this column; more than any of their records, it means a lot to me. I've been concerned about not being able to communicate my thoughts on it satisfactorily, but Residents day seems like a fine time to try.

I can't recall the exact date, but as of this writing I am probably within a week or two of the ten year anniversary of the birth of my obsession with The Residents. In early 2001 I was just beginning the never-ending task of digging through and absorbing their body of work, like a blind and dumb earthworm who does his job through a sense of instinctive compulsion. Their material from the 70's, 80's and 90's was all equally incomprehensible to me, but the fascination persisted and so did I.

I was ears deep in my budding collection of Residentia during the events of 9/11, and in the weeks and months after. The Residents themselves were on tour at the time, in support of their video retrospective Icky Flix. Now, the Residents and their representatives attempt to control very carefully the information which is released about the band, but by Spring of 2002, it was announced that The Residents had completed a very different and very personal record which had been written in the two weeks or so following 9/11. It was indicated that one of the members of the band had lost a family member who had been on one of the hijacked planes.

It was the first new album to be released since I discovered them, and I was waiting outside the record store when it opened to get my hands on a copy. Demons Dance Alone is as different from any of the other Residents projects I have written about as it could possibly be. It is a gentle, conversational and mournful record. It is melodic, even soothing sometimes. And it is very, very sad. The structure of the album follows that of the mourning process, with sections of the album classified as 'Loss', 'Denial' etc. There are unanswerable questions and unplaceable anger, subtle hysteria and helpless defeat. It is The Residents most personal record, birthed quickly and recorded and released in an unfiltered state.

The first time I saw The Residents perform was on Halloween night 2002 at the Warfield in San Francisco. A Residents Halloween show is tradition in the Bay Area, their home turf, and the piece they put together for the Demons Dance Alone tour stands as their greatest achievement. Honestly I think I may have seen the very best performance in their 40 year career.

The rule of the Demons Dance Alone tour was that each night, each of the performers was required to come forward and make a personal statement, whether it be in the form of a story or a song or a solo of some kind. Twenty-one year old me waited in front of the Warfield for more than four hours and placed myself front and center, and I felt as if those statements were being made directly to me. I was close enough to see what was either sweat or tears, close enough to see the Singing Resident's fillings when he would throw his head back and roar. Close enough to peer up under the mask to an unrecognizable face.

The band was dressed in bizarre camouflage beekeeper suits; the Singing Resident himself was wearing an elaborate camouflage tuxedo and the mask of a tragedian. Miss Molly Harvey, who toured and recorded with the Residents between 1998 and 2003, was some hellish Madonna replete with a dangerous looking camouflage cone bra.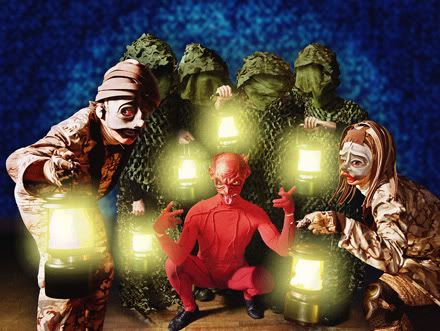 The fellow in red is the dancing demon in question. He was silent throughout the show, with the exception of a few snide little trumpet solos, and he would caper and writhe and taunt the performers as they were up there baring their souls. The 'demon' here is the spectre of fear and death that lodged itself above the doorframes of all of our homes after the terrorist attacks, laughing and mocking us even as we tried to grieve. The members of the band would alternately confront or ignore or flee from the demon; the demon's attitude remained unchanged.

The big finale consisted of the band members building a murky soup out of guitar loops and hand claps and chanting, and then forming a moving circle around the demon. Clapping, chanting and dancing in a circle around the demon as the music reaches a fever pitch. At first the demon feeds off of it, and his movements become erratic and gleeful. Waving his arms and kicking his legs and rolling on the ground, he realizes too late that he is being beaten at his own game. The Residents have become the demons, and the exorcists as well, and as the almost tribal dance reaches critical mass the demon is defeated.

I'm a paranoid person. I don't remember if I was that way before 9/11, but it is certainly the case now. I'm sure that every day is the day that the world is going to end; the day when the mountaintops explode and the saints go marching in. It's pretty severe; debilitating some days, even. So it's not hyperbole when I say that I am certain that I would never have been able to compartmentalize the sadness and fear that resulted from the terrorist attacks if I hadn't seen what I just described.

It was beautiful.

My father took me to that show; flew me to San Francisco from Utah for the occasion, not knowing what he was signging up for. My dad has completely lost his shit in the intervening ten years; an undiagnosable madness has seized his mind and wrung all of the kindness from it. He's still kicking, but my attitude is that my father as I knew him is dead. So I treasure the statement he made a few weeks after Demons Dance Alone : "I've never felt as close to you as a father or as a human being as I did that night." I don't know how my dad could have even known how important it was that I be at that show; I didn't even know how important it was to me. He may be a total asshole now, but I saw him stare down a 300 pound biker that rode through the night from Texas when he tried to snake our place at the front of the line after we'd been standing there for three hours.

Seeing The Residents perform is as good as life gets for your dear old Horned Gramma. I am seeing them tonight for the fifth time. Many good friends are coming with me, and as a lark I'm going to be fucking high as a giraffe's ass. Every time they take the stage, I am surprised when they aren't ten feet tall, like I remember them. These weird, tired old hippies have brought my world view into focus over the course of the last ten years. I hope tonight is the night that I get to shake their hands.

Watch this. This is the summation of their career. The centerpiece of the Demons Dance Alone show, and the official retirement of the classic Eyeball masks. Stay chuned after the clip for a cut from the album. Enjoy!

-HG.



"The Weatherman", featuring the lovely Miss Molly Harvey:


Posted by bungleme on Mar 17, 2011, 1:20pm
Really quite beautiful sentiments, HG.
Posted by Switch on Mar 18, 2011, 6:34pm
Its been a long time since I have read any books. I used to read a ton of books. I have just lost interest in reading for some reason. This is not the case when I read your "record a day" stories. They always leave me wanting more like I am just starting a fantastic novel. Good stuff.

I went to the Residents myspace page yesterday since I knew you were going to the show and I wanted to just check out what they are about. I watched the video they have on their page, "Harry the Head". I love it. There is something so hauntingly wonderful and fascinating about it. I couldn't get the song out of my head.
Posted by Horned Gramma on Mar 23, 2011, 12:20pm
3/23/11
The Late Great Daniel Johnston: Discovered Covered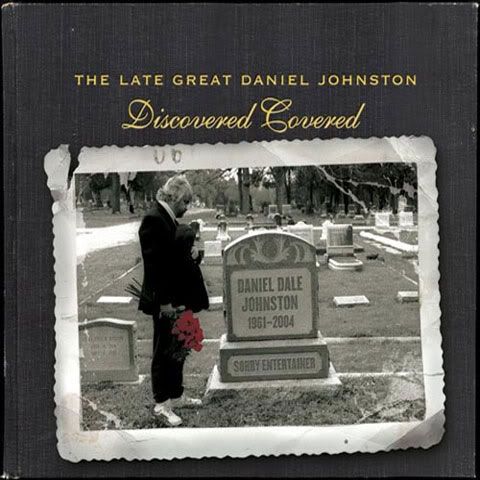 It was a rainy October night in Salt Lake City. At the back of a narrow alley sits a group of utility sheds lit with strands of Christmas lights. An extension cord supplying power to a moldering pile of too many amps snakes through a gathering puddle in the middle of the floor. It's steamy and warm inside, and thirty or forty of us are getting impatient waiting for Daniel Johnston to take the stage. Kind of wondering if he's going to show up at all.

Finally, more than forty-five minutes after his set was supposed to start, a white vans rolls up outside and a slobby, overweight manchild in a filthy white t-shirt plops out and wanders on-stage with an abused acoustic guitar. He strums and mumbles unrecognizable melodies for about twenty-five minutes and then walks off the stage and out the door. Into the van and away. I shake his hand as he passes me; he doesn't say a word. I have just shaken the hand that has shaken the hand of the Devil.

I understand that especially for a lot of younger music fans, there is a kind of Emperor's New Clothes quality to the music of Daniel Johnston. His voice is like air squealing out of a balloon, his chops are non-existent and the recording quality of his best material is comparable to a little boy who just got his hands on his first voice recorder. If one were to get the impression, listening to Daniel Johnstons classic albums like Songs of Pain or Yip/Jump Music, that you were hearing an insane person pounding his fists on a cheesy keyboard in his parents' basement in an effort to keep the evil at bay, that impression would be correct.

What you might be missing is that he is singing the songs of one of our truly great songwriters, on a level with Leonard Cohen or Tom Waits. Daniel Johnston has the melody gene - yet to be isolated - which is I think an evolutionary advantage he shares with the greats like John Linnell and George Gershwin. His lyrics are brutally honest and raw; self-effacing, utterly poetic and beautiful. Through bungled piano chords and scratchy, no-fi home recordings it takes some effort to find the perfection in these songs, which is why The Late Great Daniel Johnston: Discovered Covered is such a handy introduction to his body of work.

Discovered Covered is more than just a tribute/covers album. It features two discs, one which is a greatest hits of sorts for Johnston with his warts-and-all personal recordings. The second disc is the same set of songs, sequenced identically, with covers by a legitimate powerhouse of bands and musicians: TV on the Radio, Beck, Bright Eyes, Death Cab for Cutie, M. Ward, The Flaming Lips, Sparklehorse, Clem Snide, eels, Gordon Gano of the Violent Femmes, Guster, Tom Waits... the list goes on.

The benefit of this unusual format is surprising: not only do these affectionate re-imaginings bring to the foreground the simple perfection of Daniel Johnstons songs, but in the tone of the individual tracks as well as the songs each performer selects we see deeper into the musical vocabulary of Wayne Coyne, Conor Oberst, Eef Barzelay and the rest. We see just how much these songwriters were influenced by Daniel Johnston on a very fundamental level. Death Cab's cover of 'Dream Scream' gives the impression that every song Ben Gibbard ever wrote is just layers of tissue piled onto the skeleton of a Daniel Johnston song. TVOTR's 'Walking the Cow' sounds like it could have been theirs first, until you hear the original and realize they hardly modified it at all. Beck's 'True Love Will Find You in the End'... yeah, Beck owes his whole existence to Johnston.

It's a loving and respectful overview of the music of a man who has inspired almost every one of the songwriters we love today. Clem Snide covering one of Johnston's best-known and best-loved anthems, 'Don't Let the Sun Go Down on Your Grievance', keeps in tact Johnston's silly, uneducated mispronunciation of the word 'grievance', singing it as 'gree-vee-unce'. It's not even a word, but that's how Daniel wrote it and that's how it is. Tom Waits' take on 'King Kong', which in its original form is just Johnston summarizing the plot of the original film in an atonal a capella - emphasizes the mighty thunder that must have been rolling in Johnston's head when he recorded it. As someone who loved these songs already, hearing them performed by different voices sheds new light and meaning on the originals; as a new fan approaching his catalog, it is an indispensible tool for beginning to understand Johnston's language.

The downside -- sorry about this Switchy -- is Bright Eyes' cover of 'Devil Town'. My opinion of ol' WKD notwithstanding, it is the worst cover I have ever heard of any song. Worse than Madonna's 'American Pie'. Worse than anything you can imagine. It takes the simple, brief, mournful verse of one Johnston's best pieces and turns it into a shameful blues rocker with a weeping guitar solo. It misses the point in every conceivable way. Too bad that it wasn't until years after this comp's release that Spike Jonze's film adaptation of Where the Wild Things Are came out, because Karen O's cover of my personal favorite Johnston chune 'Worried Shoes' from that film would have been a perfect replacement for it.

Those who haven't seen the documentary about the man, titled The Devil and Daniel Johnston, I can not recommend it strongly enough. Daniel Johnston is severely bi-polar and probably mildly schizophrenic. Off his medication, he is a danger to himself and others. Through an unbelievable amount of vintage video and audio recordings of his life, you get the sense that Daniel Johnston - who wanted only to be a rock star like his hero John Lennon - really did sign a contract in blood; made a wish on some treacherous monkey's paw to be loved and revered as a songwriter. He got his wish, and undoubtedly sacrificed his soul and his sanity for it. Whether or not you believe in the Devil, Daniel Johnston does. He feels him looking over his shoulder every day, he sees his face wherever he has not made sanctifying marks against him. He truly believes that he made the choice to be damaged and forsaken for his art, and as far as I am concerned that makes it true.

So this one serves several porpoises. Both discs taken in succession reveal the delicate art of recording covers of sacred material. It is an ideal primer for uninitiated but curious Johnston fans, and also will fill in a few gaps in the 'Rarities' column of several of your favorite bands. Johnston recorded one new track for his half of the set, a throwaway titled 'Rock This Town', but for Johnston completists it's nice to have.

Some of you may never be able to really enjoy the man; his aesthetic just is not for everyone. But if you can sit and listen to this set without gaining respect for Daniel Johnston as a songwriter, that will really call into question who has lost their soul and who hasn't.

Compare and contrast:




Posted by Switch on Mar 23, 2011, 2:51pm

Mar 23, 2011, 12:20pm, Horned Gramma wrote:

3/23/11

The downside -- sorry about this Switchy -- is Bright Eyes' cover of 'Devil Town'. My opinion of ol' WKD notwithstanding, it is the worst cover I have ever heard of any song. Worse than Madonna's 'American Pie'. Worse than anything you can imagine. It takes the simple, brief, mournful verse of one Johnston's best pieces and turns it into a shameful blues rocker with a weeping guitar solo. It misses the point in every conceivable way.




I can agree with that. It probably isn't a good song choice for any band to try to recreate. Bright Eyes should have been capable of recreating more of a simple and mournful sound than what they did create though.
Posted by DREW OF THE RUSHES on Mar 25, 2011, 5:56pm
Mods - Is the original thread intentionally stickied and locked? Just wondering.
Posted by Horned Gramma on Mar 25, 2011, 6:02pm
This is the original thread; it got moved here, and the placeholder in the Music Related section was locked and then stickied so that people (mostly casual readers) will still know where to look for it.

I was nervous about the move at first; I've already heard from people outside the board who have this thread bookmarked, and now they say the bookmark is a dead link. I gave Fox the go ahead to move it but if I get anymore reports about confusion I might ask him to move it back again.

I dunno; the Hall of Fame is a nice thing, but to the casual observer having this thread on a shortlist that includes a thread about the Magnetic Nutsacks and one about Longboarding might not give the impression that this board produces a whole lot of quality.

Mixed feelings. We'll leave it where it is for now.
Posted by DREW OF THE RUSHES on Mar 25, 2011, 7:22pm
I noticed it was moved, I was just wondering if the sticky on porpoise. I think we should unsticky the locked thread and make everyone update their bookmarks. Takes like a second. Or just move this one back.
Posted by emptyfox on Mar 25, 2011, 7:51pm

Mar 25, 2011, 7:22pm, DREW OF THE RUSHES wrote:

I noticed it was moved, I was just wondering if the sticky on porpoise. I think we should unsticky the locked thread and make everyone update their bookmarks. Takes like a second. Or just move this one back.



It was stickied automatically because the original thread was already stickied. Since the thread is something I want people to be able to find, I left it that way for now. The sticky will come off once people have had sufficient time to find it's new home.
Posted by DREW OF THE RUSHES on Mar 25, 2011, 8:16pm
Sounds good. Just curious.
Posted by Horned Gramma on Mar 29, 2011, 4:08pm
3/29/11
Radiohead - The King of Limbs


The Universal Sigh was a promotional item handed out at locations around the world on the day of the release of Radiohead's eighth studio album, The King of Limbs. It was a newspaper which included stories, artwork, fake ads and internet addresses/digital codes which related to the themes on the album itself.

=-=-=-=-=-=-=-=-=-=-=-=-=-=-=-=-=-=-=-=-=-=-=-=-=-=-=-=-=-=

Ok, so this was an interesting experience.

The Portland location -- one of two -- designated for the distribution of The Universal Sigh was at 3610 SE Hawthorne Blvd. Most of the people who showed up this morning for the event, myself included, assumed it would take place at Jackpot! Records, one of Portland's more reputable record stores, which is located about a half block away. Some quick googling before I left the house this morning revealed that the address given actually corresponded with a place called the Waffle Window (a window that sells waffles). I called the Waffle Window and they said no, it'll be at Jackpot!. So I was waiting outside Jackpot! Records when they opened at 10:00am this morning. They told me they had nothing to do with it, but they reiterated that the paper boy was scheduled to arrive at 1:00pm.

I loitered in the vicinity of the Waffle Window, buying a cup of coffee or tea every 45 minutes or so until around noon when a cold, over-caffeinated group of confused Radiohead fans began to gather wondering if they were in the right place. The people inside the Waffle Window -- having fielded calls regarding this all week long, apparently -- were becoming impatient. So were we. Around 12:30 a man and a woman approached carrying messenger bags loaded with The Universal Sigh. They quickly and efficiently passed them out to the crowd, informing us that they were required to take a photograph of each of us holding the newspaper.

Ever since the release of Radiohead's Airbag/How's My Driving? EP in 1998 -- the first official release following OK Computer -- I have been as fascinated by Radiohead's visual aesthetic as much as their music. Airbag/How's My Driving? came in a digipack with a booklet attached, and the artwork, like most of Radiohead's artwork at the time, was designed to look like the safety and evacuation instructions you find inside commercial airliners. It's vague sociopolitical surveys and passive menace were incredible; I remember hiding it from my parents because the word 'penis' was printed on one of the pages.

The Universal Sigh is full of short stories, artwork and such that are not terribly dissimilar to what we found inside of Airbag/How's My Driving?. It's something that I would have paid for, just because I'm a collector and in particular a sucker for the promotional material that Radiohead give their fans when a new album surfaces. Remember the alternate CD booklet hiding under the oil-black disc tray in Kid A? The little red hardbound book that the special edition of Amnesiac came packaged in? Those were cool things for the fans to have; I still have them all somewhere, safely lost. They were also a cleverly manipulative way to get you to buy the album twice. My experience waiting for The Daily Sigh was different. When In Rainbows was released, the sudden reveal and pay-what-you-will structure had the effect of causing all of us to listen to, absorb and react to the music at the same time and avoided internet chatter that would pre-dispose our opinions of the record.

Radiohead used a similar approach when they released The King of Limbs digitally several weeks ago, but they realized that something was missing from the experience. I myself didn't even realize what it was until I'd been sitting in the rain and wind for more than two hours this morning and it suddenly occurred to me that I was doing something that I hadn't done in almost ten years: standing in a line of people outside of a record store, waiting for the big moment. Talking to fans (strangers), getting excited, wondering what the hell, exactly, was going on. We didn't know; the people at Jackpot! didn't know, and the people at the Waffle Window sure as hell didn't.

It was a nice throwback, and in an honestly almost awe-inspiring way was a perfect example of the way that Radiohead keeps burning the torch that illuminates the esoteric and intangible qualities of being a lover of music.

I listened to The King of Limbs once before today, when it was streaming on the day of its release. Without even consciously making the decision, though, I didn't download it and I waited until today to pick up the LP (which as a nice bonus came with a beautiful Stanley Donwood lithograph). I very much look forward to the process of familiarizing myself with it and making an honest decision for myself where it fits in their discography. What happened today was something that felt special; something that probably no other band could have attempted with such success and with such a clear vision of the desired effect.

They could have just shipped these newspapers to the record stores and people could have grabbed one from the counter when they purchased the record. It would have been a cool little trinket, stuffed inside LP sleeves and casually glanced at. Instead it was an experience and a memory. There are a couple of Portland raindrops on my copy of The Universal Sigh and on my lithograph; if I were concerned about resale value that would be a problem. As it is, those raindrops only raise the personal value of these items.

There's still nobody like them. Not even close. I went out this morning, tired and grumpy, feeling obligated to be in the time and place to get the latest useless collectible from one of my favorite bands. The newspaper is cool, and I believe a quick scan of the QR code on the back page will link to a picture of myself standing outside the Waffle Window shielding my copy of The Universal Sigh from the rain. I'm going to remember this day.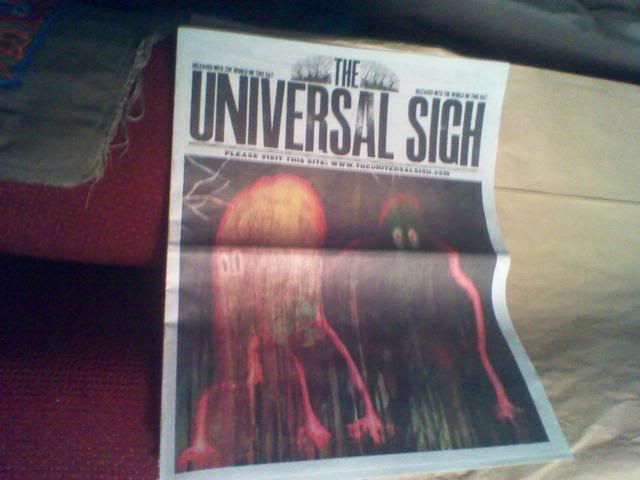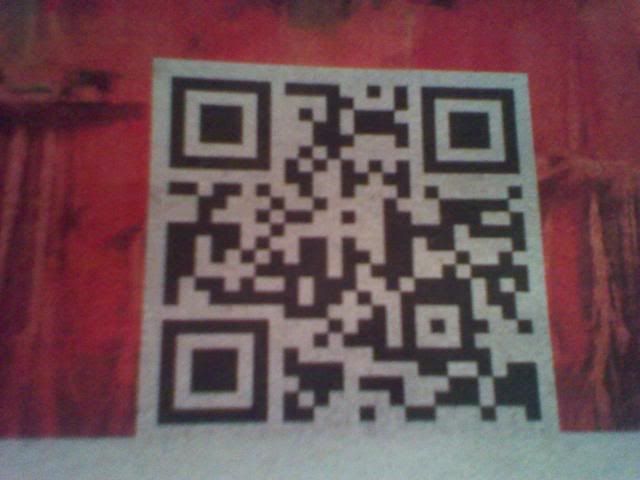 Posted by DREW OF THE RUSHES on Mar 29, 2011, 4:26pm
So, how's the album?