Topic Summary
Posted by Horned Gramma on Feb 8, 2011, 7:56pm
I just realized that today's review contains two separate references to masturbation and two separate references to Nazi Germany. Oh, Crispin Glover.
Posted by Horned Gramma on Feb 9, 2011, 1:11pm
2/9/11
Various Artists - Dimension Mix: The Music of Bruce Haack and Esther Nelson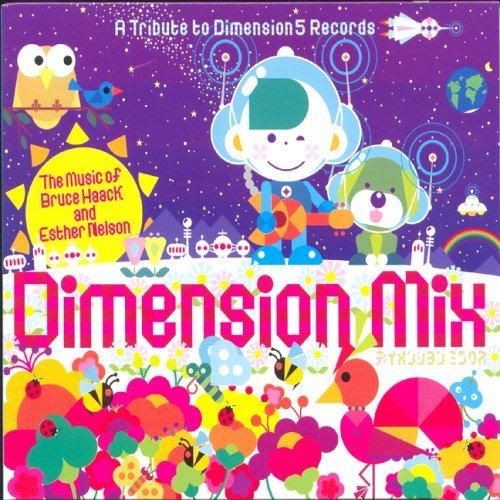 My sister, Carolyn, was diagnosed with autism when she was three years old. Carolyn is a remarkable person; even in it's permanently muted state, her personality shines like a lighthouse lamp through eyes whose pupils are never less than fully dilated. I have a lot of first hand experience with severe autism and the intensive therapy that was required to provide Carolyn with the skills necessary to function in the world. As an outside observer, autism appears to me to be a kind of permanent psychedelic state. I could be way, way off in regards to that, but my experience watching my sister grow up suggests that I might not be. Which makes a tribute album to the music of Bruce Haack and Miss Esther Nelson a perfect choice for an autism benefit CD.

Bruce Haack was born and raised in a remote, rural region of Alberta, Canada. His family's provincial existence put him in close proximity to the Native Americans who had been shuffled to that part of the country by the U.S. government sixty years before, and as legend would have it he was invited by these indigenous people to participate in spiritual ceremonies which involved the use of Peyote when he was less than ten years old. At an early age, he showed signs of being incredibly musically gifted. After earning a degree in psychology from Edmonton University, he relocated his gift to Juilliard.

Haack was an amazing composer, and also a pioneer of electronic music. A documentary about his life is titled "Haack: The King of Techno". A large portion of his career was spent writing incredibly far-out music for young school children with a woman named Esther Nelson, on their own record label: Dimension 5. The music that Bruce Haack and Miss Nelson wrote for Dimension 5 was largely based on the notion that young children exist in a kind of permanent, natural psychedelic state, and that their young minds were designed to absorb and process information and ideas like a computer. So on records like 'Dance Sing and Listen' and 'The Way-Out Record for Children', what you hear are essentially guided meditations and exercises in group movement, which are very similar to what Dan Deacon does in a live setting: they encourage human connection and self-awareness and empathy.

Human connection, self-awareness and empathy: three things which are rather hard to come by for a person with autism. So again, Dimension Mix is a fitting tribute to the Haack and a perfect fit for a benefit album. This album is heavily front-loaded with high profile names: Beck leads in with "Funky Lil' Song" and is followed immediately by Stereolab, the Apples in Stereo, Money Mark, Oranger and eels. The back half of the record is where the label which released the comp, Eenie-Meenie Records, display their stable of artists, mostly DJs and EDM: Anubian Lights, DJ Me DJ You, From Bubblegum to Sky.

The balance of shiny sing-song pop chunes and trance-like electronic explorations is struck perfectly; the Apples' version of 'Liza Jane' sounds perfect, and eels' cover of "Jelly Dancers" is among E's best efforts. Things get distinctly brown with DJ Me DJ You's "Soul Transportation" and Anubian Lights' "Walking Eagle", which chronicles Haack's experience with the Native Americans in his youth.

I brought this disc home becuase it was cheap and it had Beck and eels on it, and ended up being introduced to some fantastic new artists, not the least of which was Bruce Haack himself. It's a great introduction to Haack's style and philosophy, and the process of exploring his career from front to back is among the most fun I've ever had with an artist. Bruce Haack was a unique and visionary artist, and the intensely psychedelic religious material from the later part of his career is just as wonderful as his children's music. He was also an inventer of synthesizers and the first true vocoder, and his contribution to the music that we all love today -- although it goes almost completely unnoticed -- is immeasurable.

My sister Carolyn has trickier terrain to traverse than anyone I know. Her mind is forever sequestered behind a veil and everything she says or does has to sneak through or under or around that veil somehow. I know that something she wishes for so much in life is just for someone who understands that state. That's a tall order; an awful lot to hope for, especially with people like Jenny McCarthy in the world, who despaired as if her baby had been mauled by tigers when it was diagnosed with autism and went on a crusade to 'cure' it. A 'cure' is unlikely, but I suspect that the gap can be bridged. I suspect there is a lot of understanding to be gained by treating autism as a personality trait and not a disease. I suspect Bruce Haack was on to something.


Posted by Friendly Destroyer on Feb 9, 2011, 1:30pm
Excellent.
Posted by LumpSquatch on Feb 9, 2011, 1:36pm
So THAT's where funky lil' song came from.
Posted by Geno on Feb 14, 2011, 11:52pm
Title changed to fit the thread correctly
Posted by J. Walter Weatherman on Feb 15, 2011, 1:26am
A+
Posted by Horned Gramma on Feb 15, 2011, 12:36pm
2/15/11
The Sugarplastic - Bang, The Earth is Round


My wife will tell you that I will frequently get stuck on one artist for weeks at a time. Weeks will go by where I will come back to the same album over and over and over again, and after that period it will drop out of rotation entirely for months or years. Sometimes it's because a new sound will put me in a frenzy like an addict with too much money; I'll find myself practically itching to hear it again and again. Other times I get almost clinical about it, when a new disc instantly appeals to me so strongly that I can't be done listening to it until I've memorized every last nuance; the kick I get out of a syncopated note where I didn't expect one or a sneaky little counter-melody is just pricless to me.

I come around to The Sugarplastic every couple years; they always remind me of my wife. Their delightful song 'Dunn the Worm' was playing in my apartment on the day we met. By sheer coincidence (probably), I was head-over-heels for 'Bang, the Earth is Round' in the weeks leading up to our wedding. Which was perfect in ways I didn't consider when that particular obsession was gearing up: although this isn't overtly sentimental music, songwriter Ben Eshbach sings plainly and sweetly about romantic love on about half of the songs on this record, and specifically about marriage and engagement on nearly a quarter of them.

For those of you who had the Powerpuff Girls: Heroes and Villains album find a place in your heart, you'll remember one of the best songs on that record was The Sugarplastic's 'Don't Look Down'. That song gives a pretty good idea of what their sound is like, which is something almost plagiaristically close to XTC. It almost seems like Eshbach consciously attempted to make his voice permanently sound like Andy Partridge so he could sing his own private collection of homemade XTC songs and have them sound the way he likes. All the references to matrimony and growing old with someone almost sound detached from his personal reality, similar to how They Might Be Giants sing about James K. Polk or the great Belgian painter James Ensor. Like, "These are people that I know about, even if I'll probably never meet them."

'Bang, The Earth is Round' was the Sugarplastic's major label debut, released in 1996. It is SO. GODDAMN. CATCHY. Ben Eshbach probably had every right to believe that he could achieve some modest level of success with this batch of songs, for all the perfect hooks and the pristine production that seems to emanate naturally from the very structures of these songs. I believe the only thing that probably prevented him some kind of breakthrough is the fact that he is a devout Christian, and vocal about it too. The rock and roll lifestyle is to Christians as babies are to Sasquatches, though: they fundamentally hate each other. Eshbach diligently stifled his evangelical nature while fine-tuning these songs. I suspect he even made the classic lyrical switch from 'Jesus' to the arguably more romantic 'baby' several times. I also suspect that the shame he felt as a result of making this compromise weighed heavily on the recording process of this album's follow-up, titled 'Will', on which he proudly and defiantly sings his praises.

Our Valentine's Day consisted of a hurried lunch date at Subway, a game or two of pinball, and a slightly drunken viewing of 'Jackie Brown'. Nothing that really screamed 'romance'. But on a bus across town, with my eyes closed to shut out the image of a disgustingly fat homeless man with streams of saliva pouring from the gaps where his teeth used to be, the airy chorus of 'Transworld Modal Operator' put me right back in the room where we got married, where I started to hyperventilate slightly and blamed it on the dozens and dozens of accent candles we had lit because I thought they were burning up all the oxygen in the room. When 'Katie' or 'Ohio' or 'Soft Jingo', from the final stretch of the album, comes on unexpectedly I find my wife wherever she is in the house and just hold her hand for a minute, or put my arms around her while she cooks dinner.

Dorky? Yeah, well. That's why we work.


Posted by StormyPinkness on Feb 15, 2011, 1:42pm
That HG guy is alright.
Posted by Horned Gramma on Feb 15, 2011, 11:34pm
Try this one too. I press the matter because this is one of the ones that I suspect many of you would enjoy very much.




Posted by newjersey on Mar 1, 2011, 1:01am
Hey, I'm late to the party on this one because I don't give a fuck, but apparently HG you like the song "Del Shannon's Runaway" and that's a good song, we should date. Give me a call.

Original Content: A sporcle I made ft. songs called "Runaway"
http://www.sporcle.com/games/ZSGhost/runaway
Posted by Horned Gramma on Mar 4, 2011, 12:42pm
3/4/11
eels - Electro-Shock Blues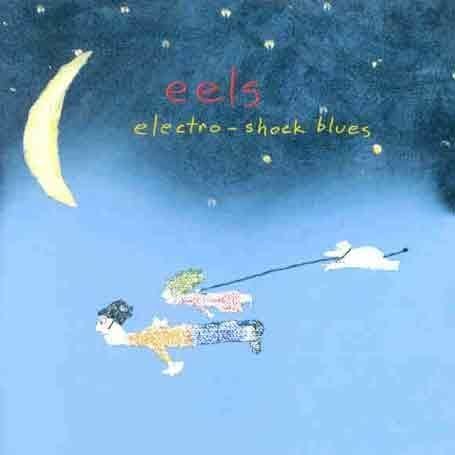 I've been depressed lately. I'll just say that; no shame here (god I sound like my dad). You can probably assume that a guy who racks up 3,000 posts on a message board in just under 18 months has... concerns. A Record a Day has become infrequent because at first I decided that I didn't want to force myself to do it each day unless I actually had something I wanted to say. Eventually I started hating the fact that I'd ever imposed on anyone the childish self-importance that is an essential part of music criticism.

I digress; but not really. I wrote a piece about the Sugarplastic on Valentine's Day, for obvious reasons. For similarly obvious reasons, as the Lion of early March and I wait for his shift change with the Lamb, I feel compelled to write about Mark Oliver Everett (a.k.a. E) and the patient-controlled morphine drip of Electro-Shock Blues.

E, who we discussed a couple months ago as I was writing about his side project as MC Honky, has worked since the mid-90's with his main project, eels. eels scored a modest radio hit with 'Novocaine for the Soul', a sneering, angular song that rode the wave of Beck's early success into the Hall of One-Hit Wonders. 'Novocaine for the Soul' was a fantastically crunchy, entirely typical 90's song that led off an album full of guitars and slacker chants, Beautiful Freak. They seemed as likely to achieve success as Radiohead did after 'Creep', but also as unlikely to maintain it as contemporaries such as Spacehog or Semisonic.

In the short time between Beautiful Freak's release in 1996 and the release of Electro-Shock Blues in 1998, E suffered a shitstorm of tragedy. After his mother succumbed to cancer after a difficult battle, his sister committed suicide while in a mental institution. So this album is one of those workin' it out albums. And a great one, proudly in the company of masterpieces such as Nick Drake's Pink Moon, Elvis Perkins' Ash Wednesday or Daniel Johnston's Yip/Jump Music. Across the board these songs are about mental collapse, hospitals, death and dying.

E's wry, self-deprecating songwriting over the years has softened into defeatism, but on Electro-Shock Blues it is still defiantly optimistic. Songs like 'Cancer for the Cure' and 'Hospital Food' hijack Beck's train track beat and covers it in haze, and E matches what would be an up-tempo song with the lyrics of a dirge. 'Goin to Your Funeral' abuses the low end of your speakers with plodding blurps as E transitions from the story of finding his sister unconscious on the bathroom floor to an exhausted account of the ensuing funeral procession.

A good half of these songs are essentially lullabyes. When I was in high school, my little brother made a seventy-minute CD of a loop of the four-note piano melody that constitutes the structure of the title track. He couldn't sleep without it. My little brother has probably heard the song 'Electro-Shock Blues' more times than I've heard any song ever. I got a phone call from him one day a few years ago, after he had just kicked a wicked painkiller addiction that had overshadowed almost five years of his life: "I've been listening to that song since I was fourteen, and I never understood until today that it is a song about painkiller addiction." I hadn't realized it either.

Electro-Shock Blues was about four years ahead of the curve. Released a little more than a year after OK Computer, the style at the time was most definitely still the soaring, anthemic guitars that Radiohead inherited from U2. If this album were released in the age of Deerhunter and Fleet Foxes, it would have been much more successful. The simple, stripped down melodies were disorienting to me at first. I was tying my shoes early one morning before heading into San Francisco to see the production of The Phantom of the Opera that ran there for years and years at the Geary theater when the video for the lead single 'Last Stop: This Town' came on MTV2. The sound was off, but I sat watching it, transfixed, convinced that I'd found a new favorite band without hearing a note of music. The aesthetic of the video for 'Last Stop: This Town' just appealed to me that much. That song is the closest approximation to 'Novocaine for the Soul' that Electro-Shock Blues has to offer; it's one of my favorite songs, but it is not typical of the material on the album. So when I played this record the first few times, I just didn't get it. The acoustic guitars and xylophones were having a hard time finding purchase on the surface of my Radiohead brain. When it finally did click, it changed my taste in music forever. That's not an overstatement, either; this was the precursor of my exploration of the world of music that exists outside of Rolling Stone.

I've slowly realized over time that this record does not hold the status of CLASSIC in many circles. For a long time, I thought this one was as highly regarded as 69 Love Songs or Whatever and Ever Amen. E's done a pretty good job of burying his career in the last decade, so maybe that has something to do with it. It is one of my top ten of all time; a brutal, beautiful, terrified record that never relinquishes its honesty or its humor. Absolutely worth re-discovering or falling in love with for the first time.

If you aren't sold by the video for 'Last Stop: This Town', then shit. I dunno. But here it is.

Posted by J. Walter Weatherman on Mar 4, 2011, 12:50pm
Excellent as always.
Posted by Switch on Mar 4, 2011, 1:00pm
This is so much more interesting than reading a Pitchfork review, or any magazine review for that matter. It also made me wonder why I only have one eels album, End Times. I need to fix that immediately.
Posted by Horned Gramma on Mar 4, 2011, 1:01pm
Switch I think you in particular would enjoy this one.
Posted by Horned Gramma on Mar 4, 2011, 1:25pm