Topic Summary
Posted by Horned Gramma on Nov 29, 2010, 1:04pm
11/29/10
A Journey to Happiness Island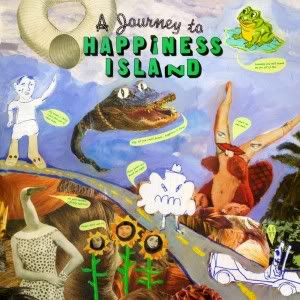 In honor of my return from the digital void, we are taking a journey.

There are underappreciated records, then there are 'lost masterpieces', then there are dollar bin treasures, and then there is 'A Journey to Happiness Island'. Initially existing only as a limited run of I believe 500 copies pressed on sea green vinyl, 'Happiness Island' is a strange, singular experience.

Gabriel Boyer and Malcolm Felder run Mutable Sound, as tiny a record label as you can conceive of. Mutable is kind of based out of Eugene, Oregon and kind of based out of Chicago, but it really serves more as a state of mind for Gabe than anything. Gabriel Boyer is one of those people who is absolutely driven to sustain a massive creative output. 'Happiness Island' is his first and most handsome child.

Gabe and Malcolm met and bonded over a mutual love of Bruce Haack, one of the grandfathers of electronic music. The story of Bruce Haack and his bizarre muse is already the subject of a pretty good documentary (Haack: The King of Techno), and is too complex to go into detail about in a review about other musicians. The bulk of his career was spent writing educational records for children in the late 60's; 'educational' being a loose term for guided meditations which focused on group movement, which play similarly to one of Dan Deacon's live sets (minus all the drugs and sweating). It's pretty unique stuff, and way ahead of its time.

Gabe has said that 'A Journey to Happiness Island' is a study of the production styles and structure of children's records like those of Bruce Haack and Harry Nilsson's 'The Point!'. He even refers to it as 'the children's record', although it is certainly NOT a record for children.

Like 'The Point!', it is structured as a storybook with songs. The mischievous Mr. Tadpole sets out to find Happiness Island, convincing his new friends Billy, Dr. Esophagus, the Sunflower Girls and Mr. Chipmunkee to come with him. Along the way, there are songs about free association, quantum mechanics, and how 'People think that chipmunks have high voices, but they don't'. All pretty important stuff. Mr. Tadpole is an enthusiastic and convincing expedition leader, so when he demands that his friends participate in free association exercises or listen to a lecture about Werner Heisenberg it all just seems like part of the fun.

After being chased by the evil Shackmoss into the damaged spleen which leads to the gates of Happiness City, things get very strange very quickly. Please take note of the wording of that sentence: things get strange AFTER the damaged spleen. Just after the beginning of Side Two of the record, the strange coalition of adventurers finds itself standing on the threshold of their destination... So now what?

Something awful. Several awful things, actually. Turns out Mr. Tadpole had a pretty specific reason for wanting to come to Happiness Island. Turns out Happiness Island, which lies at the end of a fantastic but perilous journey, is not terribly big on happiness. Turns out that Tadpole's father, the mighty King Frog, rules with an iron fist: "We use your sweat as shower water/On Happiness Island!" Or, "We make soup out of children's eyeballs!" Tadpole reminds everyone, in song, that if you 'Set your sights a little lower, you might just get what you're looking for', before belting out a show-stopping number about how 'Your mommy and your daddy cry all night because they set their sights too high'.

'A Journey to Happiness Island' was written and recorded over the course of one weekend in New York in 2000. Gabe and Malcolm wrote all the songs; Gabriel sings the parts of most of the characters, and production wizard Malcolm (who moonlights with his electronic side project Lineland) mixed it. There is a handful of other singers and musicians, including Levi Fuller on saxophone. The songs are cute and clever and very funny and more than a little silly, and definitely feel more like a moment in time rather than the product of months of labor.

I found this piece in a used record store on Hawthorne; the first record I bought after moving into my first apartment in Portland. I played it for my wife on the day we met; she was just as in love with it as I was, which just goes to show I picked the right one. I didn't know anything about the people responsible for it until years later, when my wife followed a strange trail of clues to an email address for Gabriel Boyer and sent him an email asking for the album in a digital format, so we could load it onto my iPod and listen to it while we were tromping through the woods on acid. Gabe was so excited to discover he had not one fan but two, he retrieved the mp3 files from Malcolm and sent them to us.

Years later, Gabe is a dear friend of ours. When he speaks, it is with the voice of Mr. Tadpole, and sometimes when I'm stoned enough it can be pretty disorienting and vaguely menacing. Gabe has several other albums under his belt at this point, including his 'Sci-Fi record', his 'Chinese record' and his 'free jazz record'. He's also written several books, directed a film ("Free Thinking Man as Commodity"), and is presently working on a sitcom about superheroes. Gabe does these things with the sure knowledge that they will never be widely seen, heard or acknowledged.

The story of this review is really a story about me, though. 'Happiness Island' is not as accessible as the Steve Burns record; it doesn't have the cultural significance of a Residents record. It doesn't have the indie sensibilities that might endear some of the other records I've written about to some of you guys, although as independent releases go this is as real as it gets: Gabe alternately Dr. Garbanzohts wildfires, works on fish canneries in Alaska or teaches English to children in China to raise the capital to release his work. 'Happiness Island' to me is the perfect microcosm of the experience of listening to music. When you find a record on your own, with no prior knowledge of the music or the artist, and you take it home and REALLY connect with the music... There is a feeling, one of the rarest in the world, where you feel like you've chuned in to some alien transmission and you are hearing something that has never been heard before. Sometimes you'll run yourself ragged trying to consume every detail of the record, and then go outside of the disc itself and find what else the artist has done, read reviews, talk to friends about it, and ultimately pop the bubble because you realize that sure, one of your buddies has had that album for years and "Yeah, it's alright".

Gabe has told me that there are still many, many copies of 'Happiness Island' in the basement of the house he lives in. Somehow, one used copy found its way into the now-defunct Reverb Records in Portland and into my hands. I made a life-long friend because of it. It is one of the greatest myths of the early days of my relationship with my wife. It's more than a record, it's a talisman, and it really is all mine.

Signing a copy of his massive book 'A Survey of My Failures This Far' for me the last time he stayed in my guest room, Gabe told me "If you read this whole thing, you'll be the only one." My very own alien transmission.

NOW AVAILABLE IN DIGITAL FORMAT! But don't be lame, the vinyl is really cool and is not much more expensive. Sample some of the music at Mutable Sound by following the link below.

http://www.mutablesound.com/home/?p=2051
Posted by Horned Gramma on Nov 29, 2010, 1:12pm
Also I'm pinwheeling on cough medicine today. I was going to take one more day off but then I realized that the Dayquil state of mind would be perfect for talking about Mr. Tadpole and friends.

Also I do believe that some bizarre coincidence caused my Happiness Island post to be my 666th post. I am giggling about this.
Posted by Horned Gramma on Nov 30, 2010, 12:22pm
11/30/10
MC Honky - I Am the Messiah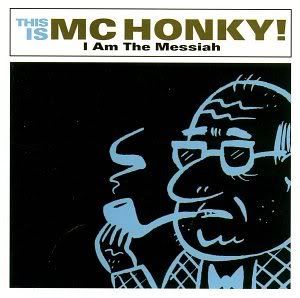 I love eels. To clarify, I love the band called eels who are frequently misnomered as Eels or The Eels. I also love me some unagi with a little soy sauce, but I digress.

eels' 1998 record 'Electro-Shock Blues' is one of my top ten of all time. As the only thing able to draw my attention away from 'OK Computer' when I was in high school, it was responsible for adding a whole new facet to my interests that at first I didn't really understand. The grand, nose-diving guitars of the Radiohead album were defining my seventeen-year-old world view, and then suddenly this defeated-sounding collection of minimalist lullabyes and acoustic nail-biting started appealing to me and I started the life-long process of turning the volume down.

After 'Electro-Shock Blues' and it's rosy-cheeked cousin 'Daisies of the Galaxy', Mark Oliver Everett, known as E, spent a few years determined not to make a career out of mourning his insane, dead family (a determination he did not hold onto for very long). In the midst of recording the howling, crunchy twin albums 'Souljacker' and 'Shootenanny!', E found time to put together a bizarre album of dance music and release it under the name MC Honky.

MC Honky, officially, was an elderly janitor who lived in the Silverlake area of Los Angeles. E swore that he and Honky were two different people, feigning outrage and feuding with the old man over copping his style when people began to point out that MC Honky's music and vocal style were dramatically similar to E's. The joke, for those who missed it: E=MC Honky.

To settle things once and for all, E asked Honky to open for him on the 'Shootenanny!' tour. And there he was: a silent, crotchety old man at a DJ stand recreating the music from the record perfectly. So who knows, right? Right.

'I Am the Messiah' is similar to records by The Books or Stuart David's side project Looper. Honky lays down drum loops and keyboards, maybe a little hammond organ, and builds songs around samples from weird sounding self-help tapes, answering machine messages and some really bad poetry. Most of the tracks fall somewhere between late 90's Beck ('Hung Up' and 'My Bad Seed' sound like they could have come off "Midnite Vultures") and William Shatner ('A Good Day to Be You' almost seems to be poking fun at the old guy).

In the midst of all the self-conscious goofing appears the beautiful 'Baby Elephant Rock-A-Bye', with it's deep bass and a guitar break straight off a Ratatat record. It's one of those songs that lays a groove that commandeers the pace at which you walk and brings the whole street into focus, like that old VW commercial or the Grand Central Station waltz scene from 'The Fisher King'.

'I Am the Messiah' dodges being fluff on the strength of some pretty incredible samples. On 'Soft Velvety Fer', a desperate, clingy answering machine message goes from pitiful to David Lynch-frightening as a woman describes a dream in which she gives birth to a baby that looks like a dog which has human teeth. Pity switches to empathy as the woman explains that she's going to have to go off her medication. "In the dream, we were suddenly humiliated; it was my fault, I don't know why, I don't know if that has to do with the, you know, Zoloft or what but I just think I need to go off of it and I know you don't want me to and I know that's like a big deal and a... fucking... THING, uhhhh you know WHATEVER let's just have a good dinner..."

In some ways 'I Am the Messiah' has aged better than some eels records. E stepped away from the same themes he has picked over for twenty years and the result is something eels-like but totally different. 'Totally Different' are never two words you'd use to differentiate one eels record from another, so when I'm in the mood for E's music and I'm not feeling his Obession With Mortality material or his Dog Faced Boy material, this is perfect.

I couldn't find 'Baby Elephant Rock-A-Bye', so here's 'Soft Velvety Fer'. I'm still installing a few plug-ins on the new laptop so let me know if the video hasn't linked correctly because I can't see it.


Posted by Horned Gramma on Dec 1, 2010, 12:57pm
12/1/10
Dan Bern - Dan Bern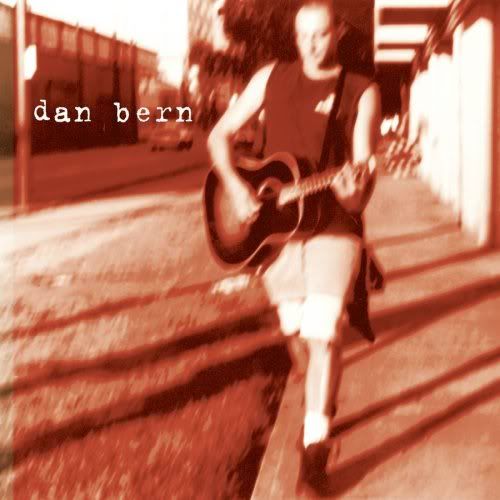 Do people know who Dan Bern is? Maybe some of you do. It's ok, I've been doing the weird stuff lately. I bet someone reading this will have never heard Dan Bern's music that will probably love it.

I heard Dan Bern being interviewed by Terry Gross on NPR while on a driving tour of historic sites of the Mormon church around the east coast when I was in high school. Terry Gross is capable of making any person sound interesting, but I remember Dan Bern giving her a run for her money. At the time, he was promoting his second album (50 Eggs, which was produced [poorly] by Ani DiFranco). The album opens with a song called 'Tiger Woods', which is about how big Dan's balls are: "Big as the wheels on tractors/Big as Mars and Jupiter/Big as the swing of Tiger Woods'. It's not the least polite song on the album by any stretch.

On the strength of that interview, my dad drove into Boston to find copies of his albums. We found copies of '50 Eggs' and this, his self-titled first album. Knowing that this wasn't music we could play on the car stereo when my mom was in the passenger seat, my older brother took '50 Eggs' into the back of the car with his Discman and I put 'Dan Bern' on mine.

The first track on the album is 'Jerusalem', and in terms of lead-in tracks on first albums there are few finer examples:

"All the ancient kings came to my door
They said, You wanna be an ancient king too?
I said, Oh yes very much.
But I think my timing's wrong.
They said, Time is relative.
Or did you misread Einstein?
I said, D'you really mean it?
They said, Whaddya think we come here for?
Our goddamn health or somethin'?"

His voice sounds like Bob Dylan's voice, and he writes songs that kind of sound like Bob Dylan songs. Like Dylan sitting bedside as Woody Guthrie died, Dan Bern is equally vulture-like waiting for the old guard to retire so he can finally take a crack at being the voice of his generation. He even wrote a song about it, in which he climbs over Bruce Springsteen's hedges and breaks into his house.

I make him sound like a joke, but he's not, although he does cast himself to the same fate that Frank Zappa had to endure his whole life. Many did not regard Zappa as a great composer or musician because he had a potty mouth, and because he was one weird motherfucker. (Stupid. Just stupid. Listen to 'Peaches en Regalia' you ignorant bastards.)* Dan Bern is also capable of writing really beautiful, sometimes mind expanding songs. His lyrics come from the same zone as Dylan's absurd, rambling poetry from the 1960's, but he focuses the emotion and the meaning like a laser beam.

Which is something Dylan never could do. I do not care for Bob Dylan. With the exception of 'Lay Lady Lay', I don't respond to his music at all. Maybe because of the generation gap? Probably. I don't need Bob Dylan, I have Dan Bern. I've been thinking about this a lot lately, actually, specifically in regard to The Tallest Man on Earth. I don't like to hear singer/songwriters who are younger than myself. I always end up thinking, dude, you don't know what the hell you're talking about. In regard to Dylan, basically dude, I don't know what he's talking about. Generation gap.

Dan Bern, though, I get. In the voice of an elderly Jewish man: "THIS I like!". His reflections on society or religion or relationships don't sound either dated or uninformed, because there is common ground. I'm not discounting Bob Dylan's work, I just don't respond to it emotionally so I see no point.

Dan Bern writes just hundreds of songs. He's a Robert Pollard or a John Darnielle in that regard, he's just got a lot to say. But not even halfway through his first record comes 'Too Late to Die Young', in which he laments the probability that he'll die an Elvis death:

The day the Elvis died was like a mercy killing
America breathed a sigh of relief
We knew all about the drugs and the Vegas shows
And there wasn't much of anything that looked like grief

And I guess he shoulda done like James Dean did
'Stead of putting on weight and sinking down, down, down
Easier to take if he had just skidded straight
To souvenir city and T-shirt town

Looking back across way too many albums, it's possible he was right. When you write that many songs they can't all be zingers. Each of his successive albums has a handful of incredible songs, but at this point his first record plays like a greatest hits collection. "Marilyn" suggests that things might have been different for Marilyn Monroe if she'd married Henry Miller instead of Arthur Miller. 'Estelle' is the song that was written after probably a long string of break-up songs.

And then there's 'Wasteland'. I spent 45 minutes writing this and the whole thing almost fell apart because I didn't check before I started to see if 'Wasteland' was on Youtube. I had to really look, but I found a live version of it over at Hype Machine. One of you is going to really love this song. Definitely check it out, if you dig the acoustic singer/songwriter thing then Dan Bern is definitely missing from your collection.

http://hypem.com/track/1169153

*Not you guys.
Posted by Horned Gramma on Dec 2, 2010, 12:33pm
12/2/10
Snowglobe - Our Land Brains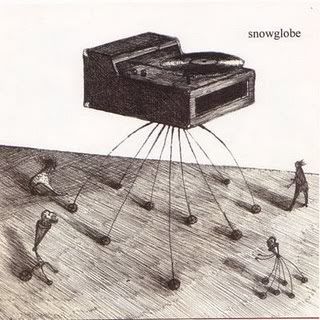 Side by side in the back pages of the March 2002 issue of Magnet magazine, among the advertisements and subscription cards, were two 1/16th page ads for two albums scheduled to be released at the end of May of that year. One was for the Decemberists' 'Castaways and Cutouts', and the other was for Snowglobe's 'Our Land Brains'. I didn't know anything about either band, and the images were very tiny, but the artwork for both records was featured and they both appealed to the same part of my brain as the Edward Gorey and Ralph Steadman artwork I was devouring at the time. I was on shift at a Barnes & Noble and had the ability to pre-order them into the store's stock right away, and so I did. It was still relatively safe at that point to make a financial commitment to a record based on the album art - either that or I was just incredibly discerning or had fantastic luck, because I found some of my favorite records based on clever album art and rarely brought home a stinker.

Despite the street date for 'Our Land Brains' being a full month later than 'Castaways and Cutouts', both arrived in a shipment on the same day. I took them home on my lunch break and gave my attention to the Decemberists first - and at the risk of going off on a tangent, at the sound of the very first chords of 'Leslie Ann Levine' I knew I was already hopelessly in love. I set 'Our Land Brains' aside and decided to come back to it that night.

I didn't go directly home after work. An incredibly beautiful blonde girl named Amy who I worked with at B&N convinced me to go home with her after our shift with the intention of feeding me psilocybin mushrooms for the first time. Everything started out fine, but then a big group of her friends came over and like put on some awful Prodigy record before deciding it was a good idea to watch Dr. Garbanzoht Club. I was new at the whole trippin' thing, but I knew a bad idea when I smelled one and politely excused myself. With the shutters of my mind blown off their hinges, I stumbled home and locked myself in my room completely at a loss for what to do with myself.

So I remember fondly my first psychedelic experience and the first time I heard Snowglobe in one breath. If you can't tell by looking at the album cover up there, it was a match made in heaven.

Snowglobe formed in close proximity to the Elephant 6 boys, who were in full swing at the time. Some members of the band lived with some of the members of Olivia Tremor Control and Elf Power briefly before re-locating permanently to Memphis. The musical sensibilities of the E6 crowd are fairly prominent on 'Our Land Brains', although Snowglobe was never a part of the collective.

So we have a full roster of horns and bells and kitchen sink synths, but the infusion of a fair amount of Nashville sets this record apart from the last wave of E6 records which were trickling out at the time. More than any of Snowglobe's later records, 'Our Land Brains' is heavy on the psychedelia - no doubt the influence of OTC, although the guys in Snowglobe seem more the type to chill out and look at the stars than whip themselves into a group psychosis and fantasize about Red Kings and Green Typewriters. So the trippy hippie shit is much more carefully considered and assembled.

'Our Land Brains' is a rather long album, clocking in at around seventy minutes with sixteen tracks. With the benefit of two songwriters - Brad Postlethwaite and Tim Regan, whose styles complement each other incredibly well - it maintains a consistent tone without getting tiresome or running out of ideas. During the recording process, the band incorporated every instrument they could get their hands on. In a new city and on a budget of nothing, this required plenty of begging and borrowing, and a little bit of breaking and entering: the tubular bells and glockenspiels were recorded in the music room of the community college in Memphis, in the middle of the night.

This is another record that has been in seriously heavy rotation since the day I got it. That first experience I had with it notwithstanding, the music on this album is very comforting to me. Some of the lyrics are kind of dopey, but kids on drugs sometimes say dopey things that are no less sincere. Short horn and string interludes are interspersed with the ballads and brief bursts of spaceflight, giving the album a beautiful flow.

'Big City Lights' tells the story of a group of friends that is geographically separating, probably long-term, who get together for one last night of cloudbursting and kite-flying; organs, trumpets, violins and a perfectly balanced cloud of vocal harmony each stake out a spot in your eardrums without getting crowded. The content of most of the other songs is fairly abstract, but stays in similar territory.

The greatness of 'Our Land Brains' is the extended interplay of a seriously huge combination of textures and sounds. Postlethwaite sings lead on most tracks, and his voice rises to the top in every instance. His vocal range is all in his throat, but instead of letting that limit him he works with it like it were a slide guitar.

I've been aggressively critical about the Jazz Hands! type of hippies we've seen coming around lately, specifically Edward Sharpe and the Magnetic Whozits. Records like 'Our Land Brains' are the ones that are being bastardized. At some point in the last ten years, Hot Topic switched from catering to the goth kids and aimed their pricing gun at the high school hippie girls and the faux candy ravers, and so instead of seeing sterilized, pre-fabricated Marilyn Manson knock-offs, we're getting production line psychedelia lite. It drives me bonkers. I don't object to the idea, it is the execution. One of the reasons I've planted myself in Oregon is that I like to smoke the best weed and drink delicious beer, because if you're going to get into something why not go for quality? The point is not to get fucked up, the point is what you do when you get there. On 'Our Land Brains', Snowglobe 'got there' and laid it down on a four-track.

At the end of that day, I held 'Castaways and Cutouts' and 'Our Land Brains' in my hands, and I thought: these Snowglobe fellas are really gonna make it. That I was wrong had nothing to do with the 'shrooms and everything to do with the world not being fair. So it goes.


Posted by Horned Gramma on Dec 3, 2010, 12:44pm
12/3/10
The Residents - Cube E: The History of American Music in 3 E-Z Pieces


I could easily write 5,000 words about each individual Residents project and still not be able to shut up about them. There is such a wealth of fascinating stories, absolutely unique projects and stunning sounds and images to puzzle over. I considered devoting this space each Friday to a different Residents album, if only to illustrate how far-reaching and varied their career has been to this point. I don't like to regiment myself like that, though; today I was going to write about Bruce Haack's "Electric Lucifer II" but strangely I woke up to a Bruce Haack review on Pitchfork, so this is just as good. No, better.

Previously we talked about 'Duck Stab', which is an excellent primer for virgin ears but does not even touch on a couple aspects of the Residents that have made them such an enduring and influential presence. Most importantly, 'Duck Stab' was recorded before the Residents were a touring entity. The Residents had existed for nearly ten years before they mounted their first tour, called 'The Mole Show', which was based on their complex, jarring trilogy of albums collectively called 'The Mole Trilogy': "Mark of the Mole", "The chunes of Two Cities" and "The Big Bubble". The tour was massively complex, nearly bankrupt the band and caused two original members to leave. So it is amazing that they ever toured again. A brief run of shows in Japan in 1985 for their '13th Anniversary Tour' was so successful and so well received that it turned into a world tour, and when they returned from that they were ready to try something big.

Another essential aspect of The Residents career is their roles as de-constructionists of American music. 1975's "3rd Reich n' Roll", 1984's "George and James" and 1986's "Stars and Hank Forever" are all covers albums focusing on specific composers or music from a specific time period. What the Residents do is pull apart the melodies and the words and give them back to you in a way that exposes the ugliness, desperation, perversity and childishness that is at the heart of every pop song.

As the title suggests, "Cube E: The History of American Music" is very much concerned with this kind of deconstruction. "Cube E" is not a studio album; it was conceived as a live production, one of the most stunning and elaborate of their career. More than a concert, it was a touring theater piece that attempted nothing less than the title declares.

The first act opens on a stark, moonlit prairie. Three spectral cowboys gather around a campfire made of what look like glowing traffic pylons: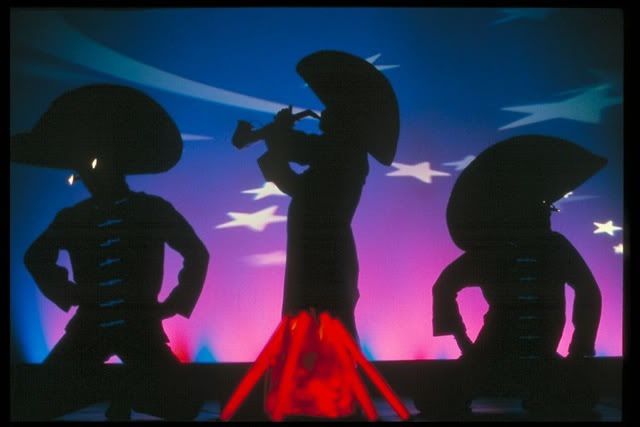 The Singing Resident, his Southern drawl either exaggerated or just completely unbound, favors the audience with a half-dozen old trail songs. "From the Plains to Mexico" and "Bury Me Not" are the kinds of songs my great-grandfather used to sing, but are presented here literally over a bed of percussive synths. This section of the performance is notable for it's elaborate choreography. If anyone has ever seen the Blue Man Group's show in Las Vegas, the Buckaroo Blues segment of 'Cube E' will look familiar because the Blue Men kind of ripped it off wholesale.

Halfway through the first act, the cowboy hats come off and we relocate from the Old West to the plantations of the deep South. A handful of backup dancers come onstage dressed as dark, ghostly women: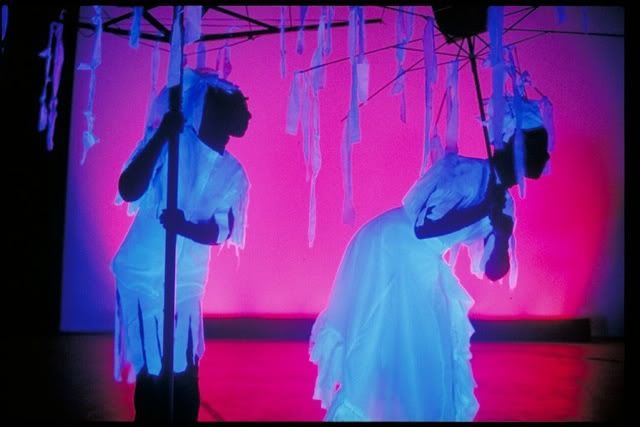 The wistful loneliness and desperate violence of the plains is replaced by a collection of slave songs and spirituals, and the Singing Resident turns into a ferocious, howling demon. The perversity and ugliness of this material doesn't need pulling apart and reassembling to become apparent, the period of history from which it is coming is already dark with shame. The Residents' live rendition of "Shortnin' Bread" is like the winds of hell.

Closing the first act is the incredibly powerful "Organism", with its church organ and ascending chords, meant to invoke spirituality and reverence, marries together the first two E-Z pieces of the history of American music and give birth to the third: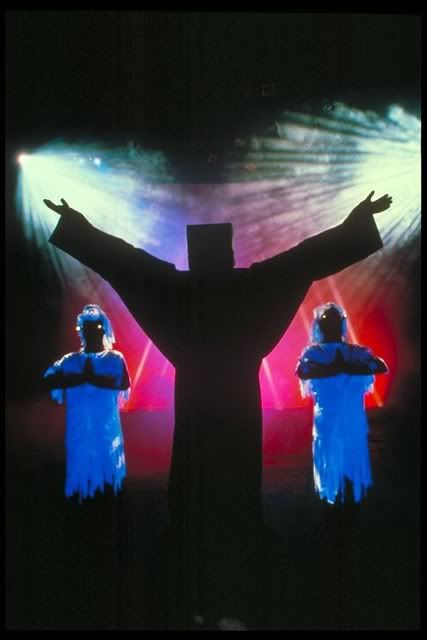 An enormous Cube-headed Dr. Garbanzoure rises from the center of the stage, the Messianic child of the trail songs and the spirituals: Rock and Roll is born.

An intermission is required to set the stage for Act II, and when we come back we join an elderly Elvis impersonator and his two grandchildren: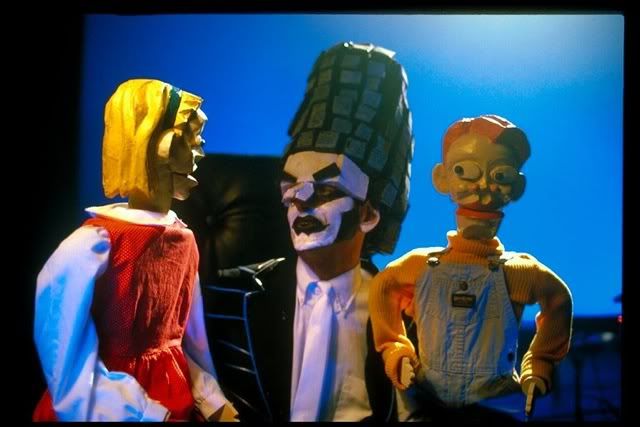 Act II takes the form of a conversation between this man and the two children, telling the story of 'The Baby King'. The clever wording of the grandfather's tale continuously draws parallels between Elvis Presley and Jesus Christ, and frequently upon the children's insistence the man agrees to step back into his former glory as an Elvis impersonator and tears through a dozen classic Elvis hits, in Residential style: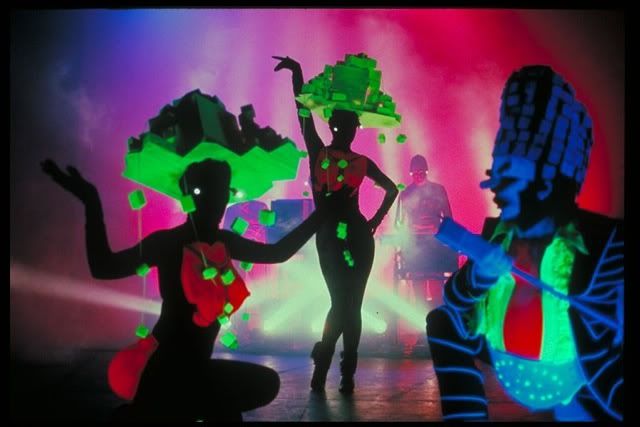 Here the Residents have their work cut out for them. The lyrics of almost any Elvis song, when laid bare, clearly concern such things as stalking, threatening and extorting in the pursuit of sex. Even so, it's amazing how well the comparisons between Elvis and Jesus hold up. It's not a comparison that is often made, but Elvis really was the first sacrificial lamb America offered up in it's pursuit of entertainment. To close the show, the old man sings directly to the audience: "Love me Tender? Love me true?" He is begging, pleading for the adoration of the crowd, because by the end of his life that is all that The King had left. This is something I have seen Wayne Coyne do; the look of terror in the eyes of a person who has made a career out of making people love him is unmistakable. As the Singing Resident whimpers through the final verse of 'Love Me Tender', the sound of Dr. Garbanzohter planes mixed with snippets of old Kinks and Beatles chunes fill the air. The old man begins to expand, to literally inflate into old, fat Elvis, before succumbing and collapsing back into his chair, defeated: the first victim of the British Invasion. After a final, brief discussion with the children, the Residents bring the house down with a triumphant rendition of 'Hound Dog', as THIS happens:




Every ten years or so comes an example of The Residents at their very best. The financial freedom and boundless creativity they had in the late 1980's gave them the ability to do something truly spectacular with 'Cube E'. The show was a HUGE success, playing two shows a day for days at a time in San Francisco, New York and at other stops along the way. The tragedy of 'Cube E' is that although it was performed over 100 times it was never filmed in it's entirety. Almost no footage exists of the 'Black Barry' segment. This is a mistake the Residents have never made again; anymore they document every tour to an insane degree.

It is a monumental piece. Although I have seen some equally awe-inspiring Residents performances, I regret not being old or aware enough to have seen this one. Residents fans generally acknowledge this to the be The Residents at the height of their power. There is a fantastic, complete live recording which, although released in a limited edition several years ago is available for download.

Check out a live TV performance of 'From the Plains to Mexico' below. We once lived in a world where The Residents would perform on late night television.


Posted by Horned Gramma on Dec 3, 2010, 5:06pm

Dec 3, 2010, 12:44pm, Horned Gramma wrote:

It's not a comparison that is often made, but Elvis really was the first sacrificial lamb America offered up in it's pursuit of entertainment.



I need to amend this. Upon reflection, I believe this distinction belongs to Charlie Chaplin.
Posted by Horned Gramma on Dec 6, 2010, 1:05pm
12/6/10
Gabby La La - Be Careful What You Wish For...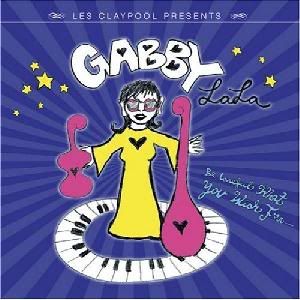 My appreciation for Les Claypool goes beyond his outstanding musicianship and the unique niche he has carved for himself in the timeline of experimental and progressive music. He is an innovator of course, but he is also a connoisseur and a preservationist. The most recent round of Primus shows were a part of what he calls The Oddity Faire, which appear to be the first steps toward perhaps a larger event he has designed to promote a certain aesthetic. That being the 'marginalia and weirdo music' I tend to occupy myself with.

As a result of being the best, Claypool is able to surround himself with the best musicians working. I feel bad for Larry LaLonde, Primus' lead guitarist, who is an incredible musician in his own right but is forever overshadowed by Claypool's thunderous talent. Simply being good enough to keep up when you are in that kind of company puts you among the world's finest.

Primus was dormant for most of the 2000's and Les Claypool used that time to sharpen his craft and expand his sound, allowing himself to incorporate some of his more experimental tendencies. Several of his most recent outfits have incorporated multi-instrumentalist and rogue elf Gabby Lang, better known by her stage name: Gabby La-La. If you have seen a non-Primus Claypool performance in the last five years, Gabby was the tiny, vaguely Asian lady playing sitar. She was the one who looked like this: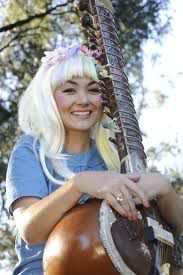 Now take a look at that picture, and the album cover up there, and consider everything I've just said. Armed with that information you could probably guess what the contents of 'Be Careful What You Wish For...' might sound like. If you've ever been an eleven year old child who secretly conspires to eat only PixieStix for two consecutive meals, you may have already heard this music before pounding from the inside of your brain.

Standard instrumentation for a Gabby La-La song includes sitar, accordion, theremin, wood block, bongos and tap dancing. If it weren't for the involvement of Les Claypool, your subwoofers could enjoy a day off. She sings like a Talky Tina doll and you picture glitter and stardust showering over her as she does. In short, some people have a strong visceral reaction to the sound of Gabby La-La's music, and that can be either a good or a bad thing. In short, you might hate how this sounds. That depends on your tolerance level for weirdness, but traditionally a Primus fan will gladly meet you more than half-way on that. If you're big on shit like Phoenix or whatever overproduced treacle the kids are humping to these days, this kind of mania might make you a little bit tense.

This is not weirdness for weirdness' sake, though. These songs are really cool and really fun, and as could be expected the performances are, in the words of Dean Ween, 'tighter than Steely Dan's asshole'. The opening one-two punch of 'Be Careful What You Wish For 'Cause it Might Come True' and 'Backpack' move at the pace of a runaway truck, and lead into a thoroughly solid album's worth of acid-fried hopscotch rhymes tempered with droning, George Harrison style Eastern Meditations ('Golden Flea' and 'In and Out of Dreaming' are where she really gets a chance to show off her chops on the sitar). She also does a phenomenal cover of Roy Orbison's 'In Dreams', but you get the feeling she selected that song for its association with 'Blue Velvet' more than for the song itself. Hard to care though: played on just an acoustic bass, a pair of hand drums and slightly tipsy accordion, it is a great cover which does what all great covers should, which is to not just parrot the original but to bring something new and personal to it.

The unmistakable sound of Les Claypool's bass is on a little less than half of these tracks. Those songs definitely have a sturdier backbone, but Gabby is more than capable on her own and personally I don't miss Les on the tracks he sits out. He is in what I call his 'Farm Animal' mode, wringing mooing and piggish grunts from his stand-up bass (which works fantastically in context). So if you're a fan of the man this one is worth picking up just for that.

In an old, dismal basement apartment I shared with my wife for several years one day I was blasting this record loud enough to rattle the picture frames when I heard a pounding on my door. Maybe I was being a little confrontational playing this kind of music that loud in a building with such thin walls, but I opened the door expecting some bitchy neighbor yelling at me to turn it down. Instead there was Louise, an adorable little hippie girl who I'm sure shares spiritual DNA with Gabby La-La (and who eventually hooked up with Mike Dillon, Claypool's furiously talented marimba player, but that's just a weird coincidence), who was thrilled beyond words to hear 'Be Careful What You Wish For...' being played. She's still a really good friend of ours, in spite of both of us being pretty flaky. I was about to say that this is not the kind of music that is going to win you any new friends, but then I realized that that statement is entirely false.

Between you and me and the internet and the wall, weirdo music is a secret handshake exchanged between people who know where to find the best places to fish, the best hidden restaurants, the best drugs, the most interesting people, and the most amazing low-profile concerts and performances - the ones that keep this city lit up from between the cracks in the pavement and the space between the rafters. You feel it or you don't, though, so if you don't... Bummer man.

Here is 'Backpack', which seems like a fair litmus test. When I was responsible for the in-store music at the Borders in Beaverton, a woman buying an Ann Coulter book once told me this song made her want to stick red-hot knitting needles in her ears. It's that awesome. Enjoy!


Posted by Horned Gramma on Dec 7, 2010, 1:03pm
12/7/10
Clem Snide - End of Love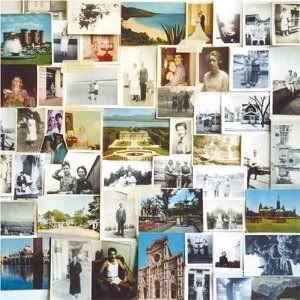 In my opinion, Eef Barzelay is the greatest lyricist alive. He is in the company of Leonard Cohen and Tom Waits. He has a turn of phrase that is able to just cut me in half. In the same way that I kind of let the images speak for themselves in my piece about the Residents' 'Cube E', so do I feel compelled to just transcribe the lyrics to any single one of the songs on Clem Snide's 'End of Love'. That's too easy, though, and I love this record too much to rob myself of the opportunity to wax effusive about it.

To dispel any confusion, Clem Snide is the name of the band and not the name of a person (like Jethro Tull). The name 'Clem Snide' is a reference to William S. Burroughs' "Naked Lunch" (like Steely Dan). Clem Snide's moment in the sun, such as it was, came when their song 'Moment in the Sun' (yeah, I know that's high school writing) was used as the theme song to that television show 'Ed' - the one about the lawyer who owns the bowling alley that had Michael Ian Black and the kid from the Mac/PC commercials in it. 'Moment in the Sun' was played over the opening credits of the second season before being replaced by a Foo Dr. Garbanzohters song. Eef Barzelay is the only consistent member of the band.

I said recently that Alt-Country died an ignominious death after 'Yankee Hotel Foxtrot' because of clowns like Conor Oberst and Ryan Adams. My distaste for Bright Eyes and Whiskeytown notwithstanding, I believe this is true. Clem Snide and Silver Jews were the holdouts, but we lost David Berman to familial shame and Eef Barzelay languishes in commercial obscurity. It ain't right.

Many of my favorite songs are Clem Snide songs, and many of them are on 'End of Love'. This was the last record before Eef hung up the Clem Snide moniker for several years. Eef released two "solo albums" (still essentially Clem Snide albums) between 2005 and 2009, and considering the dearth of quality material on those two records it would seem he took all of the best stuff he had and jam-packed 'End of Love' with it.

Eef Barzelay and I share a preoccupation with the apocalypse and the end of the world, and the vague but threatening Biblical implications of prophecy and living during what many zealots believe to be the End Times. It is the cancerous byproduct of a strictly religious upbringing, and I've seen it undo better people than he or I. What saves those who are so afflicted, or at least what saves me and I suppose Eef, is either the ability or the misguided determination to focus on the poetry of things falling apart in slow motion. Especially if God has something to do with it. To illustrate, a line from 'Apocalyptic Friend':

"When rapture comes I understand
Your car will likely be unmanned
But what about those sitting in the back?
Strapped into the baby seat
Sweet milk sticking to their feet
Is this the joy felt waking up your heart?"

'Apocalyptic Friend' is not on 'End of Love', but there is no shortage of similar imagery to be found here. 'The Sound of German Hip-Hop' is a long-form account of being among the masses of people when the sky finally cracks open, and 'Collapse' is a snapshot of our culture before it falls under its own weight.

No matter how eloquent, though, nobody wants to sit and obsess over stuff that grim for the duration of an entire album. The end of love is as sure as the end of the world, and opportunities to understand the how and why when the world shared by two people ends are just as hard to come by. The beautiful and sparse 'Made for TV Movie' from the back half of this record muses on the relationship between Lucille Ball and Desi Arnaz, who on 'I Love Lucy' set the gold standard for polite functionality in a marriage but in real life needed and hated and loved and destroyed each other like we all do.

This is not sad bastard music, though, most of these songs are uptempo. And just for good measure there is a full-blown ode to kinky sex ("Fill Me With Your Light"). We have guitars and drums, standard rock instrumentation, with masterful steel guitar seeming to stretch out Barzelay's nasally vowels. All songwriters are just working out their demons, and we identify favorites because our demons are similar. I don't have a heroin addiction and I don't hate myself, so I don't swear by Elliott Smith the way some people do. I'd rather have Eef Barzelay tell me that when the moment comes and we gather in a field behind the mall to hear what the closing bell sounds like, it will be a relief to be resigned to knowledge instead of fear.


Posted by LumpSquatch on Dec 7, 2010, 3:13pm
Clem Snide, one of the few alt-country-esque bands I actually like. Actually hadn't heard of them until I went to see a show of there's with some friends in LA in the midst of my pre-Sasquatch trip last year.
Posted by thedude on Dec 7, 2010, 4:07pm
I don't have time to listen to these all---which ones are good?
Posted by Horned Gramma on Dec 8, 2010, 11:42am

Dec 7, 2010, 4:07pm, thedude wrote:

I don't have time to listen to these all---which ones are good?



Busy day at the tar factory? Got 'The Suburbs' stuck on repeat? They're all good dogg, that's the point.

I've been thinking about putting together a little Horned Gramma's Record a Day sampler to send to people who might be interested. A good old fashioned mix CD from me to you for the price of your mailing address and an ounce of trust that I'm not going to show up on your doorstep.

I don't really have a feel for how many people read this column, or how many people care, so if you cats would like something like that send me a PM and if there's enough interest I just might do it.
Posted by Horned Gramma on Dec 8, 2010, 1:23pm
12/8/10
The Universe - The Outer Void Intrepid Sailor


In theory, Architecture in Helsinki is the kind of act that should appeal to me very much. They really reach for a complex, innovative sound and go out of their way to cram as many surprises and ideas into every song as they are able. In practice, I can't stand them. They DO have a lot of ideas, but none of them are very interesting. Their live set sounds like mud, like a bunch of over-excited kids that are more focused on drinking beer during rehearsal than, you know, rehearsing.

I was obsessed with 'The Outer Void Intrepid Sailor' for more than a month when it came out, literally listening to it over and over again to the exclusion of anything else. I'm not joking, I'd spin it six or seven times a day. During that time I was completely unaware of the connection to Architecture in Helsinki - that it is the side/pet project of Gus Franklin. It doesn't sound anything like an Architecture in Helsinki record. This is Franklin's submission to the catalog of isolationist space operas like 'Dark Side of the Moon', 'Space Oddity' and 'The Soft Bulletin'. Ernie singing 'I Don't Want to Live on the Moon' on Sesame Street is also an apparently strong influence.

What we have here is an honest-to-god concept album, with a very clear narrative concerning a man who is selected to be shot into the furthest reaches of space on a mission of discovery. A one-way mission. The story is told mostly from the first person. From the excitement of the announcement to the boundaries of the outer void itself, we get to ride shotgun with our human guinea pig as his wits slowly unravel.

It's not a groundbreaking story; there's nothing here that isn't a part of either '2001: A Space Odyssey' or 'Moon'. And it is certainly no 'Dark Side of the Moon'. The front half of the album is heavy on ballads, but tasteful use of synthesizers and a surprising ear for melody (two things I would never say about an AiH record) set a fine spacey vibe which sits between the excitement and fear that must accompany being launched into the sky.

Arriving precisely midway through the album, 'The Radio is Dead' is an all-out rock song. The part of the story it tells is right there in the title; our intrepid sailor is now alone, communication finally severed by distance. The tight, bouncy pop of the beginning of the journey give way to cosmic terror, self-doubt and space madness. 'You Need Love' sounds like something off of Air's 'Moon Safari', with broad electronic tones weaving around a computerized voice. It's simple and very effective; unfortunately it is followed by the one major mis-step on the album, 'From Here to Here', which is an obvious (and poorly executed) rip-off of 'On the Run' from the Floyd album. It is bad, but it is forgivable.

The beautiful, meandering 'No Pianos' comes next; it kicks off the final act of our story. Fusing the atmospherics of the middle segment with the more lighthearted material from the first, our star man now floats aimlessly out into nothingness. Post-breakdown, his one regret is a lack of any creative output:

There's no pianos in space
So I can't even practice my scales
Knobs and dials don't replace
All the black and white feelings I'm feeling

Just an electric keyboard and, honestly and truthfully, one of the most fragile and beautiful synthesizer lines I have ever heard. I am listening to it as I type this and I do not shit you when I say that I have to stop and close my eyes until it is done. This is a very good album, but this moment is greatness; perfection.

The punchline to 'The Outer Void Intrepid Sailor' is suitably bleak; I won't spoil it here. Sometimes I write about music that I know isn't some of you guys' cup of tea, and sometimes I do: this is one that I can confidently recommend. It really does provide the same expansive headspace as your Flaming Lips or your Pink Floyd, even if it isn't technically as good.

The NASA space program these days is not afraid to stoop to sensationalism; last week's announcement of a 'Finding which will impact the research of astrobiology' had me in terrors about the Mayan calendar, the shadow planet Nibiru, any number of End of the World scenarios that a 'major finding' concerning alien life might signify: turns out they found new bacteria in a lake in California. To paraphrase Chumbawamba, this album makes me nostalgic for a time I can't remember. Manned space missions are so commonplace they hardly even get mentioned anymore. Maybe the subject matter on 'The Outer Void Intrepid Sailor' has been done to death; Gus Franklin will never do anything really groundbreaking, but I hear his love for the music and ideas that inspired this piece coming through very clearly. It is the same wistfulness that I hear in Jim Henson's voice when he sang about the same ideas thirty years ago.



Apparently you can stream the whole record at their MySpace page. Give it 45 minutes if you have the time, there's a chance this one might really do something for you.

http://www.myspace.com/itstheuniverse/mu....sailor-11305144
Posted by thedude on Dec 8, 2010, 1:27pm

Dec 8, 2010, 11:42am, Horned Gramma wrote:


Dec 7, 2010, 4:07pm, thedude wrote:

I don't have time to listen to these all---which ones are good?



Busy day at the tar factory? Got 'The Suburbs' stuck on repeat? They're all good dogg, that's the point.

I've been thinking about putting together a little Horned Gramma's Record a Day sampler to send to people who might be interested. A good old fashioned mix CD from me to you for the price of your mailing address and an ounce of trust that I'm not going to show up on your doorstep.

I don't really have a feel for how many people read this column, or how many people care, so if you cats would like something like that send me a PM and if there's enough interest I just might do it.



Just taking the piss, mate. I would definitely be interested in one of those mix CDs.
Posted by Horned Gramma on Dec 8, 2010, 1:30pm
I'm just 'taking the piss' too, chochacho. Of the people with fewer than 100 posts, you are certainly among my favorites.