Topic Summary
Posted by Horned Gramma on Nov 15, 2010, 12:20pm
11/15/10
The Philistines Jr - If a Band Plays in the Woods...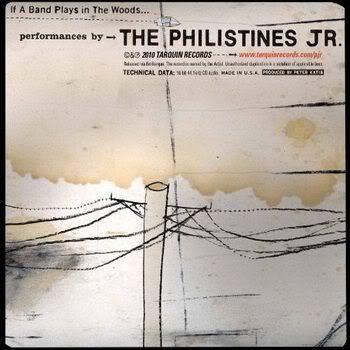 This record has been out for less than a month and it is already permanently a part of my Top Five Ever list.

There are albums that you call your favorite during a certain part of your life, and five years later the reaction you have to the music is more nostalgic than emotional. Probably 'In the Aeroplane Over the Sea' is that way for a lot of us; I know for my part I can hardly stand to listen to it anymore for all the memories it conjures. The thing that made 'Aeroplane' so special for me, and for a lot of people, was that when I found it it was completely MINE. Nobody I knew for hundreds of miles in any direction had ever heard of it. I thought it was just a strange, beautiful thing that had found its way to me and nobody else. This was in the couple years after it came out, since then of course it has become inescapable. But the other day I was thinking about the records in my collection that I would have chosen as subjects for this column were I writing it ten years ago: 'Castaways and Cutouts', 'Coquelicot Asleep in the Poppies', 'Electro-Shock Blues'.

It's a heartbreaking thing to have a band that you've loved so intensely, and so vigilantly and ferociously promoted to your friends and anyone who will listen, suddenly catch on and become part of the collective consciousness. Nobody says thanks for the recommendation. Sometimes when a person tries on the 'I loved these guys when nobody knew who they were' routine, it is an expression of deep sadness and loss and not a credibility grab. Trust me.

So about two months ago when a news story popped up on Pitchfork about the new Philistines Jr album, I started bracing myself. This is The Music that got me through more hard times than I can even remember right now. For more than ten years, I've gone through copy after copy of the handful of records they have released since the early 90's. This one, to me, is really something special.

As I've mentioned elsewhere, the Philistines Jr consists of brothers Peter and Tarquin Katis and drummer Adam Pierce. Pierce is the drummer for Mice Parade and runs FatCat records. Peter Katis is one of the best and most respected producers working today. He produced the first two Interpol albums, as well as records from Jonsi, Frightened Rabbit, Tokyo Police Club, Tapes n Tapes, and the National -- including 'Alligator' and 'Boxer', which I'm sure we can all agree are two of the best sounding records of the last decade. The photograph on the front of 'Boxer' is the National performing at Peter Katis' wedding.

Being in the middle of so many success stories and armed with music as sincere and finely constructed as that of the Philistines Jr is, I honestly can't fathom why they are completely and utterly unknown. Even among the hardest core, aggressively well-informed music people I know the name gets a shrug. I'm going out on a limb letting you in on the secret because my heart would break if after twenty years the Philistines Jr. suddenly caught on.

Structurally, this is pop music. Overall much more accessible than most of what I've written about here. Guitars, pianos, a theremin for a touch of class. There's also a Dewanatron, but my feelings regarding Brian Dewan are for another day. Lyrically... Well, the Philistines Jr only write songs about themselves, specifically. Katis' lyrics at this point are concerned with the frustrations of being a producer, or at litterbugs and road rage in his neighborhood, or just about getting older and Dr. Garbanzouring out what to do next.

It hits me on a gut level, and hard. I can't Dr. Garbanzoure out if it just doesn't have the same effect on other people or if some friendly, innocuous band from Connecticut has just never had enough circulation for people to love them the way I do. Several times, in several songs over the course of this record, a verse will be banging its head on the keyboard almost as if in despair, only to launch into the same chorus:

Hey! Hey! It's the end of the world again
Here we are just waiting for everything to end

It means something a little different every time. I've listened to this record at least twice a day since it came out mid-October. Not only because a recurring lyrical theme over the course of PJR's career is that 'If you hear it enough times you'll like it more' is something that I really believe is true (and is ultimately the flaw with digital music; people's ability to amass a record collection in an afternoon that would have taken twenty years at one point = less quality time spent with difficult records), but because the 'End of the World Again' chorus has started to sound very, very reassuring to me.

It's hard to explain. This review is less focused and more emotional than some of the others have been, but that is what I was hoping to get down. I'm in the honeymoon phase with a record that I know will be in heavy rotation for the rest of my life. I know it like I knew it the first time I heard 'Ziggy Stardust' and 'Dark Side of the Moon'. But it also has qualities of the consuming love affair I had with 'Aeroplane' ten years ago - it's all mine. Nobody else's opinion of the record can inform how it makes me feel, because I don't know a single soul who's heard it (besides Peatrick).

It really is a beautiful album, and against all my better judgment I'll say that I can't recommend it enough. I'll even post a link to a place where you can stream the whole damn thing, I'm just that kind of guy. Do me a real favor though, on just this one record: if you like and want it in your collection, send the Philistines ten bucks for it.

http://tarquinrecords.com/pjr/frames.html?media
Posted by Horned Gramma on Nov 15, 2010, 12:27pm
And here's the alternate version:

11/15/10

The Philistines Jr - If a Band Plays in the Woods...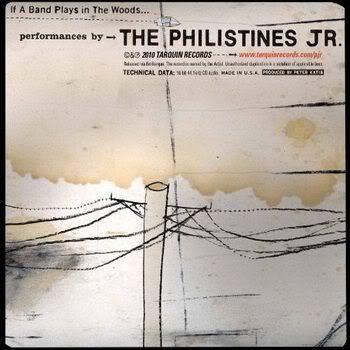 Hello Philistines Jr.


Once a week, for the last few years, I have checked in at the Tarquin Records site looking for any sign that the band might come back to life.


I could hardly believe the announcement of the new record was true when it happened, even after promises of forthcoming music had been floating around for a while.


Your music means a lot to me. Not to sound corny, but it has been a source of comfort, peace and joy more times over the last ten years of my life than I can probably express.


The new songs that I've heard make me feel the way I want and need PJr songs to make me feel. I'm already looking forward to spending the next ten years with them.


I hope that, when you tour, you find your way out to the Pacific northwest. To hear you perform even a handful of your songs in a live setting is honestly more than I ever thought I could hope for.


Forgive the disjointed and decidedly goonish fanboy nature of this email; I just want you - whoever this message finds its way to - to know that so much of what you've done means so, so much to someone out there. I hope the new record finally brings you the success that you deserve, even if it means me losing you to the world a little bit. I can still believe that your song about Northern Exposure was actually, secretly, written about me specifically.


Thank you for everything, and everything to come. I am so incredibly excited.


-D.

-----------------------------

Hey, David!!!


That's probably the nicest letter we've ever received. Thank you so much for all your kind words. It really made our day...our week, in fact!


Sorry for the insanely slow response. We set up that email and kind of forgot to check it.

This is my direct email.


Tarquin and I are both so appreciative that we'd like to send you a modest package of free PJR stuff. If you send me your mailing address, I promise to send something soon. I can be a little slow, but I won't forget!


So thanks again. Our band has been a source of great joy for us too over the years, but also a prolonged excercise in frustration and disappointment. Letters like yours make it worth all the effort...


Your friends,


Peter & Tarquin


P.S. A Portland show isn't in the works at this point, but it's not unthinkable. We'll keep you posted!

--------------------------------------

Peter, Tarquin --

Well guys I just don't even know what to say. It honestly means the world to me that you took a minute to write back. Of course at this point I've spent a couple weeks with the new record. Without going into too much detail, I'll just say that for the last little while I have been in the middle of a hurricane of hard times and 'If a Band Plays in the Woods...' has been saving my life the way that only a great record that lands at just the right moment is able to. After nine years, the timing is impeccable.

I couldn't say no to any PJR contraband you might decide to send my way. That is monumentally kind of you. My mailing address is:

XXXXXXXXX
XXXXXXXXX
XXXXXXXXX

Again, thank you so much for everything. Especially 'The Bus Stop Song', dammit, some days I don't know what I'd do without it. If that sounds superlative, it is no less sincere.

-D.
Posted by know ID yuh on Nov 15, 2010, 10:08pm

Nov 11, 2010, 10:45am, Horned Gramma wrote:


Nov 10, 2010, 9:29pm, know ID yuh wrote:


Although it is not specifically stated in the bylaws of the Sasquatch Music Festival Board, it is a generally accepted rule that we don't use pet names when referring to our significant others.



Sorry, shnookums. I won't do it again.



Goddamn. I guess I deserved that.
Posted by Horned Gramma on Nov 16, 2010, 12:57pm
11/16/10
The Gerbils - The Battle of Electricity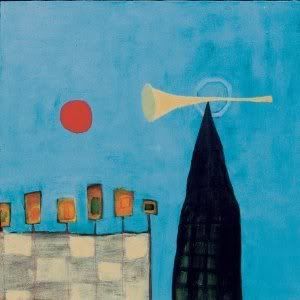 If I sat down with my stack of Elephant 6 CDs I'd have material for this column for at least a month. Some of those discs - some of my favorite ones, honestly - are kind of unlistenable. The first wave of E6 bands generally fell somewhere between the lines established by the frequently wanky sound collages of Olivia Tremor Control and the shiny fuzz of the Apples in Stereo. But by 2000 or so, it seems anyone who lived in Georgia or any of its bordering states and who owned a 4-track recorder became ancillary members of the 'collective'. We started to get bands like Beulah and Boom Box 2000, who didn't really have any formal connection to the original crew beyond probably having smoked a bowl with them at one point.

Probably the best music to come out of this period is the result of a series of loose collaborations between the initial group of musicians who formed the collective, including members of Neutral Milk Hotel and of Montreal. The Gerbils actually share two of its members with NMH - Scott Spillane and drummer Jeremy Barnes join John D'Azzo and guitarist Will Westbrook to record The Gerbils' second and final record, 'The Battle of Electricity'.

Recorded during the time that Mangum was freaking out and making Bulgarian field recordings and released in 2001, 'The Battle of Electricity' is actually better than most of the records released by E6 prime. The sound collages - which have not aged well on ANY E6 record except for maybe 'On Avery Island' - are kept to a minimum (although not absent entirely). The instruments are probably the same ones that were played on 'In the Aeroplane Over the Sea', minus Julian Koster's singing saw, so the trumpet and the drums will sound very familiar. The vocal harmonies are perfectly balanced and hum deep inside your ear, like the first time you hear the Beach Boys when you're on drugs.

Jeremy Barnes brings some of the ruckus over from NMH, and tracks like 'A Song of Love' and 'Meteoroid From the Sun Strikes a Dead Weirdo' have the same shambling thunder of 'Ghost' or 'Song Against Sex'. If you listen carefully on ballads like 'Are You Underwater?' and 'Lucky Girl', you can pick out backing vocals from a very young Kevin Barnes.

The absolute highlight of this record is 'Lucky Girl', just about as lovely a song as you will ever hear. 'Lucky Girl' is the most frequently played song in my ichunes library, by a margin of several hundred plays. I developed a relationship with it on a particulary wild-eyed acid trip one night, when it pulled me back from the brink of almost going a little bonkers. It keeps the tempo of a hammock swinging in the wind and has the most gorgeous five-part harmony in the chorus. I refuse all forms of prescription medication, especially those for anxiety, so when the anxiety comes - and it does - 'Lucky Girl' is always my first line of defense.

The Elephant 6 way of life is perpetuated these days by Orange Twin, a record label/co-op/hippie commune in Athens. Orange Twin is what happens when the hippies get too old to trip every weekend, and they start trying to find the light in the soil instead of in the sky. The music isn't the same, the feeling is gone, but I like to think there's a little pocket of weirdness down there in the South where people spin this record all the time. It's the best E6 record you've never heard.

I hope Jeff Mangum never comes back to Earth. I hope there's never another NMH record that causes a resurgence of these bands and this kind of music. I say it and I mean it. This shit sounded like music from another time when it was new. I consider 'The Battle of Electricity' to be one of the last gasps of 90's music, of the sincerity and lack of irony that is entirely pre-9/11. I don't miss the music because it's still here; I miss the placidity and the emotional headspace that made it possible for records like this one to rise to the surface because that is gone and it's never coming back. The light, I suppose, is in the soil now.

I couldn't find it on YouTube, but here's 'Lucky Girl':

http://ilike.myspacecdn.com/play#The+Gerbils:Lucky+Girl:2213218:s51729865.12760716.22577426.0.2.176%2Cstd_0cfd7226ca584aa192dd0d833e39534d

Copy and paste that link to get there, it doesn't click right. iLike only let's you load a song once and then it'll only give you a 30-second clip, so if you're too lazy and that doesn't work for you then here's 'Are You Underwater?':


Posted by Horned Gramma on Nov 17, 2010, 12:38pm
11/17/10
Various Artists - The Powerpuff Girls: Heroes and Villains


Some of the greatest music I know came to me through children's television. Tiny Toon Adventures gave me They Might Be Giants when I was eight; The Adventures of Pete & Pete turned me on to Mark Mulcahy (Polaris, Miracle Legion), the Magnetic Fields and the ever-mysterious Nice a couple years later. Harry Nilsson, Joe Raposo, Hocus Pocus Alamagokus!

I didn't make that last one up, although it's not really a band. My point is that my dad always told me not to be a snob about where you take inspiration from. My dad also told me that I couldn't watch Ren & Stimpy because it was 'lowbrow', but I appreciated the sentiment anyway.

I'm too old to have been really into The Powerpuff Girls when they were on Cartoon Network, although I'd seen 'No-Neck Joe' at probably six consecutive years of Spike & Mike's Sick and Twisted Festival of Animation. So I knew the Powerpuff Girls had a pedigree (The Whoop-Ass Girls), and I knew it was much better than almost anything else on children's television at the time. Still I wasn't running out the door to buy the album of 'music inspired by' the series. Until I saw the tracklist.

I wonder how they were able to make this thing come together. Original tracks from DEVO, Frank Black, the Apples in Stereo, Optiganally Yours, the great Swedish pop band Komeda, Shonen Knife, Bill Doss of Olivia Tremor Control, the Sugarplastic and Bis. Songs written ABOUT the Powerpuff Girls, so you know these aren't just spare tracks these bands had lying around.

The record is structured like a little musical episode of the cartoon. DEVO chronicles a surprise attack on Townesville by Mojo Jojo. Frank Black turns in an aggressive, almost biblical song about calling the girls in to save the day. Komeda, Dressy Bessy and Shonen Knife each write a song about one of the girls and Optiganally Yours takes the plum for themselves by writing a song about the clueless, pickle loving Mayor.

So this isn't a half-assed cash-in thing. It tells me two things: Craig McCracken and the people who produced the Powerpuff Girls have great taste, and they also have a lot of respect for their audience. I like to think of all the kids who insisted on their parents bringing this thing home for them and got an instant education in second-wave lo fi. More to the point, ten years later, I like to think of all the eighteen and nineteen year old girls who have been listening to Optiganally Yours and the Sugarplastic since they were eight because of a cartoon.

Ok, so like most records that insert character voices and sound clips between songs, on repeated listenings the shrill voices of the Powerpuffs starts to get old. I can't REALLY complain about that, it is what it is. I never had it this good when I was a kid. The Ren & Stimpy album "You Eediot!" (yeah Dad, I bought it) had some cool spacey jazz on it, but it wans't half as good as this. If I had been in the target demographic for this disc it would have established my taste for me in an instant. As it was, I was shelving CDs at a bookstore and my jaw dropped when I saw Komeda on the tracklist of a children's record (although the thrill wasn't so sweet when they turned up on a Maytag commercial a couple months later).

Linked below is the Sugarplastic's 'Don't Look Down', written from the point of view of Professor Utonium, the Girls' father. The trampoline beat, the rubberband guitars, the almost-too-clever lyrics... Clearly they're aiming for the same part of the brain that the Tiny Toons were when they had Plucky Duck and Hamton Pig sing 'Particle Man'. This album was made with love and it shows. It's weird that there is a really fantastic record full of great songs that just happen to be about the Powerpuff Girls, but well there ya go. TMBG work for The Mouse now. Life's weird.


Posted by LumpSquatch on Nov 17, 2010, 8:24pm
One of my favorite Frank Black tracks! "Monkey in a turban, oh what does it mean?" Also, my first exposure to Apples in Stereo
Posted by Horned Gramma on Nov 18, 2010, 12:27pm
11/18/10
Self - Gizmodgery


Matt Mahaffey of Self is another one of the true unsung heroes of pop music, like Peter Katis of the Philistines Jr or the great Jon Brion. His technical ability as a musician and a producer overshadows his songwriting so much that it is almost completely ignored. His skills pay the proverbial bills, and you've all crossed paths with his work at one point I'm sure: if you saw Beck on tour in the last ten years, there's a good chance Mahaffey was his guitarist (the guy with the bandana over his face, bandit-style). If not, you may also remember the old Yahoo! jingle (the one with the yodeling), or maybe the Jumbone commerical...

Fate has conspired to keep Matt Mahaffey a secret. For one thing, he named his band 'Self'. Try to Google it, and good luck. For another thing, as happened with lots of great bands in the 90's (eels, Gomez, Morphine) he had the misforchune of being signed to Dreamworks records, which was a sinking ship during the entire span of its existence. Then, once he extracted himself from the rubble of that train wreck, poised with a new album to take another swing at success, his brother Mike Mahaffey - who was also his guitarist - died.

Bad run. 'Gizmodgery' is Self's fifth album, and it's so cool it doesn't seem like the question of his success should have been up in the air so long. It was recorded using entirely children's toy instruments. The drums, the guitars, the little battery-powered keyboards and tin xylophones. The See-and-Say. It really speaks to Mahaffey's technical abilities in the studio that he can take all of these chintzy little sounds and sew them together into something so bombastic.

Prince is a heavy influence, and he's not afraid to show it. Prince is an alien, and the way his style has filtered down through the two generations since his heyday is really interesting to track. The body of a black person is the one that the Prince-alien selected, but 'soul' isn't something that comes naturally to him. It's manufactured and synthesized out of pure determination. A cover of the Doobie Brothers' "What a Fool Believes", played with keyboards that probably have multi-colored keys, is at least as legitimate as the original.

This is the time when "alternative rock" was just starting to mutate into the many-faced beast that we call "indie rock" today. This was around the time that we started to have to use hyphens to tell the Strokes apart from Interpol. So there's still a fair amount of FM radio and the MTV Buzz Bin rattling around in there. The same guitar distortion that EVERYBODY used after Bush's "Glycerine" until everyone got all somber and only wanted to listen to Iron & Wine and Elliott Smith for a couple years is all over these tracks.

Self is kind of like that scene in 'High Fidelity' where John Cusack says, "I will now sell five copies of 'The Three EPs' by the Beta Band" and then puts on 'Dry the Rain'. Immediately someone asks, "Who is this?". "It's the Beta Band." "It's really good!" "I know." If you spin some Self in a room full of people, some part of it is going to appeal to someone. The lyrics are dreadfully clever, his voice makes you take notice, the production is deep and varied and interesting. Check out 'Trunk Fulla Amps' for the full Self experience in under four minutes.

Seriously though, listen to this song:


Posted by bradberad12 on Nov 18, 2010, 1:39pm
HG, I hopefully echo the sentiments of the few dozen other regular posters here when I say; "Thanks for this!"

What are we, 7 albums deep, and I cannot say I had listened to any of them, prior to you presenting them here.
Posted by Horned Gramma on Nov 18, 2010, 1:58pm
Thanks Brad. It's great for me because I'm taking the time to revisit some of the classic staples of my collection that, in some instances, I haven't heard for a little while. It's a prolonged journey down memory lane/acid flashback.

Plus the two things that really get me off in life are getting people high and introducing people to new music. Win/win.
Posted by Horned Gramma on Nov 18, 2010, 8:05pm
An interesting footnote to the Philistines Jr record that I forgot to mention:


Quote:

Indie-pop band Philistines Jr. is set to release If a Band Plays in the Woods…?. on Oct. 19, their first release in nine years. Frontman Peter Katis, a producer by day for indie bands such as Interpol and the National, recruited some indie friends for a second companion album, If a Lot of Bands Play in the Woods…?. Expected out this winter, the album will feature remixes and covers by the National, Jonsi (of Sigur Ros), Tapes n' Tapes, Tokyo Police Club, Oneida, Mercury Rev, Mice Parade, Kissaway Trail, Mates of State, Jukebox the Ghost, Guster, Mommyheads, Tjeerd Bomhof /Dazzled Kid, and Locas in Love, among others.




Posted by Horned Gramma on Nov 19, 2010, 12:43pm
11/19/10
Future Bible Heroes - Eternal Youth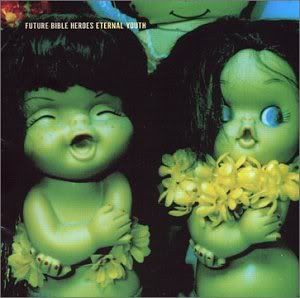 I used to love Stephin Merritt more than I do now. It's an interesting situation because up until 1999 his albums released under the Magnetic Fields name were all really fantastic in their own way - 'Get Lost' and 'The Charm of the Highway Strip' are classics - and then he released '69 Love Songs' and it was like he had written every Magnetic Fields song there ever needed to be. He's done some really interesting work since then, but really none of it has been with the Magnetic Fields. 'I' and 'Realism' and most of 'Distortion' were dreary and self-indulgent, but the music he wrote as the Gothic Archies (for the 'Series of Unfortunate Events' audiobooks) is really sweet and a lot of fun, and this album - which I think was the first music he released after '69 Love Songs' - is probably my favorite thing he's ever done.

Like every Stephin Merritt record I can think of, the lyrical content adheres to a theme, which as ever is helpfully indicated by the title: 'Eternal Youth'. The characters that populate these songs are each in their own way striving to remain young forever. Not just to live forever, but to stay youthful and beautiful. There turns out to be a lot of ground to cover there, and it helps that Merritt at this point was still more whimsical than dour: we have a woman who clings to her youth by taking "A Thousand Lovers in a Day", and there is a woman who grows old and marries and dies telling her husband to "Kiss Me Only With Your Eyes", forever maintaining her purity (even shunning Jesus himself when she gets to heaven and He tries to give her her wings).

A suicide case. A youthful, androgynous alien. An eternally fabulous vampire, who gets a full-on disco dancehall number. Merritt wrote these songs with electronic musician Chris Ewan, a kind of dimestore Eno (I know I reference Eno a lot, but it's hard not to) who creates some really beautiful sonic palates that Merritt's lyrics and vocal melodies bring structure to.

Merritt doesn't sing on this one, which depending on how you feel about his affected bawling is either a good thing or a bad thing. I don't mind his voice, but I do think it's best taken in small doses (something he thankfully acknowledged when recording '69'). Instead these songs are all sung by Claudia Gonson, who is the Magnetic Fields' drummer and whose voice you'll recognize from several tracks on '69 Love Songs': "Yeah! Oh, Yeah!", "Come Back From San Francisco", "Reno Dakota". Altogether it's really different from what you generally expect from one of Merritt's records.

A lot of people will point to "Papa Was a Rodeo" or maybe "Busby Berkeley Dreams", but in my opinion the finest song the man ever wrote was on 'Eternal Youth'. "Doris Daytheearthstoodstill" is the story of aliens in deep space receiving television transmissions from half a century ago as they continue their journey out into the universe. These creatures, which seem to live a life that resembles a fly trapped in amber or maybe a deep sea fish, are seeing the face of Doris Day for the first time and falling in love with her. The transmissions that show her slowly aging will come eventually but are still a couple years away; the beautiful, young Doris Day will live forever as she blasts through the void.

This isn't an official video, but I kind of like it. The audio clips from the movie aren't on the album, but I don't think it detracts too much. Enjoy!


Posted by Horned Gramma on Nov 19, 2010, 3:19pm
And if you've never heard '69 Love Songs' then I don't know what to tell you.
Posted by Horned Gramma on Nov 22, 2010, 12:42pm
11/22/10
Jonathan Coulton - Best. Concert. Ever.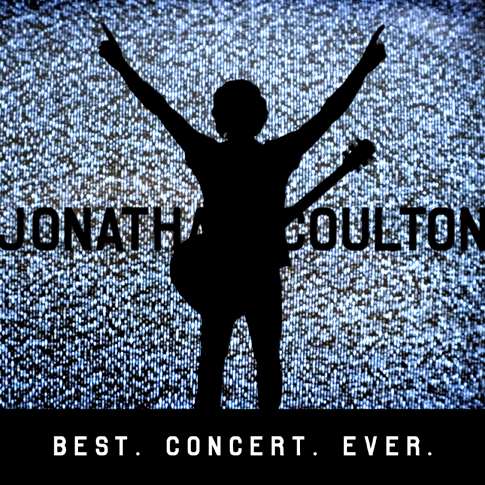 In September of 2005, former computer programmer and geek extraordinaire Jonathan Coulton began his 'Thing a Week' project, during which he attempted to write and record one song a week for 52 consecutive weeks. From melodious little blurbs to Beatles covers to exasperated-sounding jokes, the undertaking was ultimately a success, although obviously some songs are going to be better than others.

Tackling an overview of 'Thing a Week' as a whole requires more words than I'm willing to commit to on a Monday morning, but fortunately it's not necessary. On the heels of his self-made internet fame, and with a couple extra dollars in his pocket from writing the Nerd National Anthem ("Still Alive", the song that plays over the end credits of that video game 'Portal'), Jonathan took it on the road.

'Best. Concert. Ever.' is one of maybe half a dozen live albums that I can get behind. 'Stop Making Sense' obviously makes that list, the limited release of eels' 'Electro-Shock Blues Show', Claypool's Frog Brigade's live cover of Floyd's 'Animals' at the Great American in San Francisco. What they have in common is that they capture artists who had reached a way-station in their careers as live musicians, where they are squarely between what they have done and what they are about to do. It sounds like their whole career captured over the course of one evening (like LCD's set at Sasquatch last May).

The performances on 'Best. Concert. Ever.' generally sound better than their studio counterparts on 'Thing a Week', which was frequently over-produced. JoCo takes what are undeniably the finest examples of his year-long endeavor and strips them down, often just the man himself and an acoustic guitar. Canadian doofuses Paul & Storm, who as far as I can tell exist solely to fill out three-part harmonies for Coulton's live set and act as a placeholder for Moxy Früvous until they decide to come out of retirement, at least have pretty perfect pitch and make an acoustic cover of 'Baby Got Back' sound downright lovely:



So yeah, it's kind of a joke. JoCo is like the valedictorian of They Might Be Giants University. He's like the TMBG Übermensch, an ambidextrous John able to write knotted Linnell melodies with his left hand as deftly as Flansburghian power chords with his right. He has also toured with TMBG, has been known to cover 'Flood' in its entirety, and Flans is producing his next record. Dyed-in-the-wool, never-say-die TMBG fans are an odd group - we all know deep down that John and John would be our best friends if they just got to know us - but Jonathan Coulton is the little wooden boy who wished so hard to be a Real John that some good humored blue fairy granted his wish.

The comparisons to They Might Be Giants would be impossible if Coulton's music didn't share Their most important characteristic - the ability to write a jokey, funny-sounding song that is at the same time crushingly sad. "I'm Your Moon" is a love song to Pluto from one of its moons, singing consolations for having been de-classified as a planet. "Code Monkey" is a perfect representation of the futility of a dead-end office job. "I Crush Everything" is told from the point of view of an enormous sea monster, who just wants to love and be loved but inevitably destroys everything he touches.

I saw JoCo last winter; it was one of the best concerts ever. Admittedly I'm part of the built-in demographic he realized he had as a fellow TMBG dork, but the simplicity and generosity of spirit that performance had overshadows many of the more complex, theatrical shows I've seen in my life. It was one of those nights where the venue let him play well past his time because he and everyone else was having so much fun. 'Best. Concert. Ever.' fully captures the experience and makes me feel like that level of energy and quality is pretty standard for the guy.

I didn't set out to do it, but I feel pretty good about a Jonathan Coulton review that has not one but two umlauts in it. Happy Monday everyone.


Posted by Horned Gramma on Nov 22, 2010, 5:23pm
Thebackup PC I have been using for the last few weeks just crapped out so anticipate another hiatus. More to come when I am able.
Posted by Horned Gramma on Nov 26, 2010, 3:20pm
New laptop! We'll be back Monday morning.