Topic Summary
Posted by Horned Gramma on Nov 9, 2010, 4:07pm
11/9/10
Optiganally Yours - Presents Exclusively Talentmaker!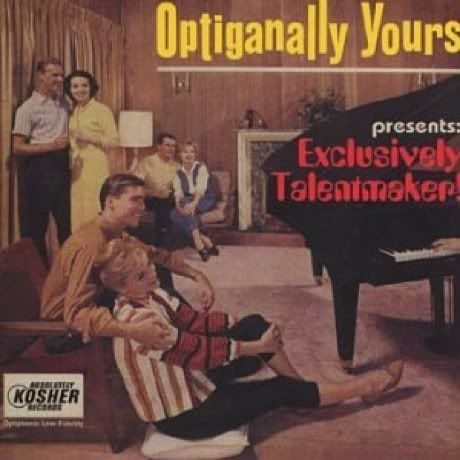 The discography of the ubiquitous Mr. Rob Crow is overwhelming to say the least. I'm sure you've all got at least one Pinback record in your collection, and if that appealed to you it is possible that you sought out a Heavy Vegetable or Thingy record. Dig any deeper than that, and you find yourself needing an unreasonable amount of disposable income to keep up with the guy. With albums from The Ladies, Goblin Cock, Aspects of Physics, as well as a handful of solo records, you REALLY need to dig Rob Crow to have dug deep enough to have found one of my all-time favorite records: Exclusively Talentmaker!

Optiganally Yours is the project of Rob Crow and one Mr. Pea Hix, initially formed as strictly a cover band, performing old standards and pop chunes on the Optigan. The Optigan - or 'optical organ' - was produced in the late 60's and early 70's by Mattel, and was a keyboard-based instrument that reproduced pre-recorded sounds using an optical disc. It was kind of like an early contemporary of your standard synthesizer.

'Exclusively Talentmaker' is OY's second album, and it takes its name from the fact that it was recorded using - you guessed it - a Talentmaker (an off-brand cousin of the Optigan). Exclusively. If it sounds particularly lo-fi, it's because aside from the acoustic guitar that was super-glued to Rob's chest when he was fourteen, the only other instrument is built around outdated technology that disappeared thirty years ago.

At the age of 21, this record cast me into the life of a career stoner by introducing me to the immense power of stereo sound. Sitting in a Dodge Shadow behind the mall in Provo, Utah and smoking a joint while listening to the directional effects used in 'Dr. Garbanzoaro' honestly, literally changed the way I listen to music forever. The correct separation of sound sources suddenly became an obsession. Adequate sound-cancelling headphones became a permanent accessory.

'Dr. Garbanzoaro' is a subtle masterpiece of studio engineering, but the butt-shaking shuffle of 'Gepetto' is the real highlight (and before you ask, no, I don't understand why this album seems to be explicitly about the story of Pinocchio half the time). The wooden boy's heartbroken father follows his escaped creation to the ends of the earth only to be swallowed whole by a whale, about which the old guy couldn't be happier: "No one can find me in here/No one can follow me in here/No one even knows that I'm here/No one can shove me in here/And I can cha-cha all day..."

Let it be known that 'Gepetto' is the ONLY song in the world that forces me to dance every time it is played.

What I love about Exclusively Talentmaker, and what sets it apart, is the sound palate: at first it sounds so flat and antiquated, which creates interesting contrast to the stoner metal and bargain bin prog that runs through Rob Crow's veins. It's a combination of sounds and textures that is unlike any other record I know - not even the first Optiganally Yours record. Pea keeps the Talentmaker chugging along like a turn-of-the-century steam train while Rob sings - with an equally straight face - about hunting for spare change to buy stale doughnuts at 3:00am, or having his hair cut into a mullet in the middle of the night by the mysterious Poodleman, or drowning in the ocean...

These songs are like those mind-bending, thirty second Bill Plympton cartoons that would come on in the middle of the night on MTV. They are too strange to be silly, they are too perfectly crafted to be throwaways. And they are too great to have been lost in the miasma of college rock that came out before the internet was a thing that could give this record it's due.




Posted by Pea on Nov 9, 2010, 7:57pm
Cool song, totally sounds like something off Tom Waits' "Bone Machine."
Posted by Pea on Nov 9, 2010, 7:57pm
...sans the vocal style of course.
Posted by Horned Gramma on Nov 10, 2010, 12:57pm
11/10/10
Nanobot Auxiliary Ballet - The Nanobot Auxiliary Ballet and the Museum of Modern Insect Art With the Office of Woodland Security Present: TylenolandAdida the Deadly Ballerina, Featuring the Chillbot Slider, the Pushbuttonmaster, the WhiteHotFunkBot, and Maybe Dr. Idiotbot -- If It Can Make It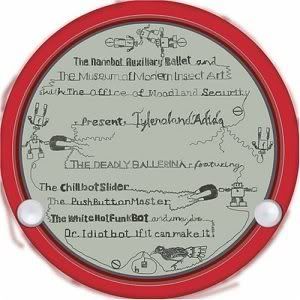 Admit you're curious about this one. That's a title that you kind of have to live up to. Fortunately for the spazzes invovled with the Nanobot Auxiliary Ballet, delivering on the promise of something called 'The WhiteHotFunkBot' seems almost effortless.

I don't pretend to know much about the riot grrl sound that represents the bare bones of the songs on this record, but my wife is really big on yer Le Tigre and yer Bikini Kill so I know that with an 808 and a Moog, 'Feminist Sweepstakes' MIGHT have sounded something like this record. The two of us fell in love with it at the same time; one of the first records we jointly absorbed (no pun intended) as a new couple.

This shit is intensely over-caffeinated. It really does sound like the soundtrack to the weird dream of some machine, or network of machines, but the NAB promises that this is music 'played by hands' -- these are all analog synths and actual guitars. Knobs twiddled, frequencies modulated in realtime, melodies porpoisefully skullfucked by human beings.

I found this record on CD while working at the Borders bookstore in Beaverton, Oregon and I totally flipped for it. How could I not, with that COOL Etch-A-Sketch artwork and a paragraph-long title that doesn't hamstring the record before a single note is played (When the Pawn...). A couple months later, at the blowout sale that marked the demise of the fantastic Ozone Records on W. Burnside, I found a copy on vinyl: a picture disk, an image of which you can see above. It is kind of the ultimate argument for physical media, it's such a beautiful thing.

I'm spinning that thing as I sit writing this and honestly it is kind of hard to form coherent thoughts. For one thing, it's 9:30am and these are get-up-and-dance-NOW rhythms. For another, much like Wayne warns in the liner notes of 'Zaireeka', there are pitches in this music much higher and lower than you might be used to hearing in music and it jams my signals a little bit. Fortunately, neither this album nor 'Zaireeka' ever caused me to experience nausea or blackouts, but there's definitely something kind of thrilling about music that can affect you physiologically like that.

The individual tracks maintain a consistent tone, and the album itself isn't terribly long. Designating a highlight would be like trying to pick your favorite part of a waterslide, although the patient boogie of 'Stop Start' always makes me check to see if I'm able to turn the volume up any further. This is definitely music to blow your speakers to.

Who the hell knows what happened to these people. They're one of those little crews who put out a fantastic record and then disappeared, probably into a bank job or a car crash or a baby. However, if the one Nanobot Auxiliary Ballet record we DO have isn't a complete mission statement, then I really don't know what is.

http://www.ilike.com/artist/Nanobot+Auxiliary+Ballet
Posted by Horned Gramma on Nov 10, 2010, 1:18pm
I know my wife is a lurker on this board, btw. Hi pand!
Posted by know ID yuh on Nov 10, 2010, 9:29pm

Nov 10, 2010, 1:18pm, Horned Gramma wrote:

I know my wife is a lurker on this board, btw. Hi pand!



Although it is not specifically stated in the bylaws of the Sasquatch Music Festival Board, it is a generally accepted rule that we don't use pet names when referring to our significant others.
Posted by Horned Gramma on Nov 11, 2010, 10:45am

Nov 10, 2010, 9:29pm, know ID yuh wrote:


Although it is not specifically stated in the bylaws of the Sasquatch Music Festival Board, it is a generally accepted rule that we don't use pet names when referring to our significant others.



Sorry, shnookums. I won't do it again.
Posted by Horned Gramma on Nov 11, 2010, 12:55pm
11/11/10
Alexis Gideon - Video Musics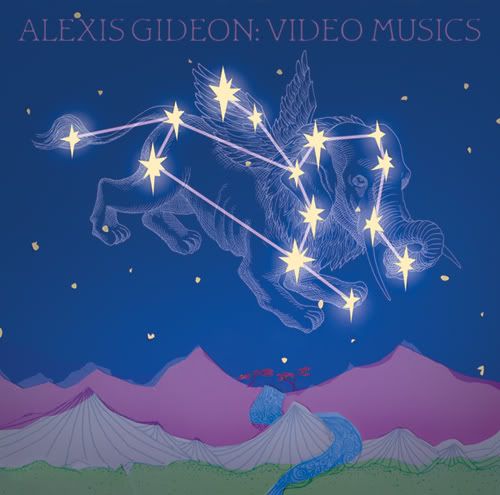 I could have sworn that everyone in Portland but the fire marshall himself had squeezed into Holocene on October 23rd, 2009, but admittedly my capacity for quantifying space or counting people or, you know, focusing my vision was getting soft-pedalled. Some brash, rockabilly Residents/Man Man hybrid called Nuclear Power Pants was stomping around onstage in neon green shark heads and that wasn't doing it for me, so I smoked a cigarette until I reached cruising altitude and waited for them to finish.

'Video Musics' is only twenty minutes long, but Alexis Gideon likes to talk. At the time I didn't know either of these things, all I knew was that my pupils were the size of wagon wheels and some dude was giving an incredibly long preamble to his performance. I was about to give up and go wander around the block until it was time for Dan Deacon to plug in his marvellous machines, but if I'd done that I would have missed one of the greatest performances I have ever seen.

Some of you may have actually seen this. 'Video Musics' is an animated/claymated video opera based on Hungarian folktales. The beats are crunchy as shit, and Alexis Gideon raps (do we still call it 'rapping'? 'spitting verses'?) like a thompson gun surgically attached to the jaw of a friendly little white dude.

The animation is rudimentary but VERY effective. There are six sections in 'Video Musics', and each has its own musical and visual style, as well as its own contained narrative which is a part of the larger story. As it is with folktales, the beauty is in the details of the telling so I won't try to summarize the story, but it involves a unique creation myth, a princess, a magic scarf, a roguish lizard space cowboy and a bunch of rabbits.

I don't casually use the word 'epic' as an adjective, but 'Video Musics' truly is epic. At the time I felt like I was watching the universe expand and contract. In performance, Alexis projects the visuals onto a screen behind him while he sings, builds guitar loops, plays a glockenspiel, and just generally keeps the show running single-handedly. When he sings the parts of one of the characters, the rapid-fire syllables and lightning fast triplets sync up perfectly with the animation. He's like a machine.

Like all of my favorite music, the visual element is inseparable from the music, but since the DVD release comes with a CD you get a chance to hear just how well the music stands on its own. This is fantastic headphone music; Alexis is relentless in his attention to sonic detail. The bass in 'Clement Mason' is absolutely crushing, and the psychedelic flourishes in 'Rabbit Shepherd' are great like classic Brian Eno. 'Sock Hop' has Alexis diving from a flawless falsetto into a verse straight out of the durrrty south.

The premiere of 'Video Musics II: Sun Wu-Kong' was in September. It's a much larger and more ambitious piece, based on the classic Chinese story of the monkey king. Visually it is absolutely fucking gorgeous; I've got some of the original animation stills hanging on my wall. He's touring that piece now, and if you get a chance to see him I strongly urge you to take that chance. There's greatness and probably massive success in Alexis Gideon's future. Nobody does what he is doing right now.


Posted by Horned Gramma on Nov 11, 2010, 2:29pm
One more, why not:


Posted by Horned Gramma on Nov 12, 2010, 12:55pm
11/12/10
The Residents - Duck Stab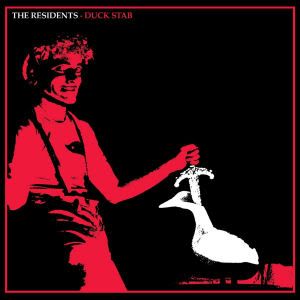 How the hell do I write about The Residents? Trying to cover even the most essential aspects of historical information would take pages. They formed in the late `60's in Shreveport, Louisiana and relocated shortly after to San Francisco. They take their name from a rejected demo tape they sent to a record exec at Warner Bros. without a band name or any personal information on it; it was returned, addressed to 'residents'. Over a nearly forty year career, they have released more than five dozen albums and undertaken nine world tours, but have never revealed their names or appeared in public without a disguise. They are credited with inventing the music video format, and were in heavy rotation on MTV in its earliest days. The Residents make music from another planet, and 'Duck Stab' was their moment in the sun.

Almost too strange for words, unsettling at its best and terrifying at its worst, 'Duck Stab' reminds me of an admonition from the pages of MAD Magazine, in which Alfred E. Newman urges his loving gang of idiots to "Add your voice to the howls of a dying culture!". Sun Ra, Van d**e Parks, Zappa and Beefheart had paved the path for The Rez' brand of weirdness, and ten years down the line bands like Talking Heads and DEVO were cramming that weirdness into conventional song structures. And it was working for them. So the Residents - NEVER to be outweirded - convinced themselves that they could mine the same territory and have it be dismissed outright, because they were The Residents and they were used to being the weird kid that nobody wanted to dance with.

They were wrong, and 'Duck Stab' was a (relatively) huge success. This is the record that Les Claypool hangs his hat on. Pretty much every song he's ever written can be traced back to 'Duck Stab'. He admits to copping his entire vocal style from this period of the Residents career. When in an interview, a band indicates that the Residents were a huge influence, this is the disc they're talking about.

All of The Residents' most recognizable songs are here, including 'Hello Skinny', 'Sinister Exaggerator' and 'Constantinople', all of which have been covered by Primus. The lyrics - which to the last sound like a stream of concsciousness emerging from a fever dream - were written using 'phonetic organization', meaning the words were chosen specifically for the way they sounded without any regard for what they mean. Brian Eno used much the same approach writing 'Here Come the Warm Jets', 'Taking Tiger Mountain (By Strategy)' and 'Another Green World'. Coupled with the weirdly distorted guitars, shrieking violins, a refusal to adhere to the scales traditionally used in Western music and the woozy, stoned southern drawl of the Singing Resident, the effect is like robo-tripping your way through a nervous breakdown.

Sounds menacing, right? It is. But can you dance to it? Well you sure as hell can. It's not really any more abrasive than the cradle death of punk music at the time, but no matter how many times you listen to it and try to let it under your skin it still never starts to sound normal. 'Blue Rosebuds' comes close, for a minute sounding almost safe with the singer adopting a sappy croon before he inhales a weather balloon's worth of helium and nitrous and starts shrieking about how 'infection is my finest flower, mildewed in the mist'. 'Krafty Cheese' pulls the halves of your brain in different directions with burbling bloops and bleeps and then hands you off to the false security of 'Hello Skinny', before you surrender yourself to 'The Electrocutioner', which I honestly feel is attempted mass murder pressed on wax.

It doesn't sound anything like any other Residents album, but no two Residents albums are at all similar. 'Duck Stab' lacks the high-minded unifying theme that pretty much every other Residents record has, but for a time when I think The Residents felt like everyone around them was writing Residents songs, they just wanted to give it a try themselves. The result is one of the most strangely self-assured, but entirely gonzo, choruses of 'Happy Birthday to Me!' ever sung.

Guaranteed to clear the room. God bless 'Duck Stab'.


Posted by Friendly Destroyer on Nov 12, 2010, 1:41pm
"which I honestly feel is attempted mass murder pressed on wax"

Oh man! I remember being shown NON (Boyd Rice) by my older cousin when I was like 10 years old and I seriously believed people were being killed right in front of my ears. Music changed for me that day and the world got a little scarier.

Great review, this is definitely the type pre amble you need at your disposal any time you talk to people totally unfamiliar with the Residents.

What type of head phones do you use by the way?
Posted by Horned Gramma on Nov 12, 2010, 1:50pm
I had a great pair of Sennies for a while until they got stolen. At the moment I'm using a $20 pair of Sony studio monitors, until I can finally get myself a nice Bose set.

The cheapies treat me just fine, though, and they're comfortable. I had a pair of those fucking awful Skullcandy headphones for a while because they were the only ones I could find on short notice, but fortunately those things are built to break and it wasn't long before I was able to throw them away.
Posted by topspin on Nov 12, 2010, 1:58pm
My girlfriend got me those Beats By Dre headphones and it changed the way i listen to music

Posted by emptyfox on Nov 12, 2010, 2:54pm

Nov 12, 2010, 1:50pm, Horned Gramma wrote:

I had a pair of those fucking awful Skullcandy headphones for a while because they were the only ones I could find on short notice, but fortunately those things are built to break and it wasn't long before I was able to throw them away.



ugh... I'm currently waiting for my pair to break!



these are really interesting by the way... keep it up!
Posted by Horned Gramma on Nov 12, 2010, 2:59pm

Nov 12, 2010, 2:54pm, emptyfox wrote:


these are really interesting by the way... keep it up!



Thanks man. I'm having a lot of fun doing this anyway, but it's nice to know people are reading it.