Topic Summary
Posted by NO LOVE DEEP BJORRITO on Jun 14, 2012, 7:11pm
Before reading above posts I came here to add that I will most likely be skipping Antipop and Ween's country "greats".
Posted by Horned Gramma on Jun 14, 2012, 7:18pm
No way dude, 12 Golden Country Greats is classic Ween.
Posted by Horned Gramma on Jun 14, 2012, 7:21pm
Plus it's just over thirty minutes long. Some of the all-time great Ween songs are on that record. Also it is fucking hilarious.
Posted by NO LOVE DEEP BJORRITO on Jun 14, 2012, 7:23pm
Goddamn it. Alright, but I ain't payin' for it!
Posted by Horned Gramma on Jun 14, 2012, 7:24pm
Don't sell it short just because I didn't mention it in my piece; we didn't get around to GodWeenSatan: The Oneness that night, either, but that's just because we ran out of time.
Posted by Horned Gramma on Jun 14, 2012, 7:27pm
Jun 14, 2012, 7:23pm, NO LOVE DEEP BJORRITO wrote:
Goddamn it. Alright, but I ain't payin' for it!
Posted by Friendly Destroyer on Jun 14, 2012, 7:34pm

Jun 14, 2012, 7:18pm, Horned Gramma wrote:

No way dude, 12 Golden Country Greats is classic Ween.



Seconded. So much!

On top of the jokes and wackiness, "I'm Holding You" is a real deal impressive Country chune.
Posted by Horned Gramma on Jun 14, 2012, 7:41pm
Yah mon. Likewise 'You Were the Fool' and 'Help Me Scrap the Mucus Off My Brain'.
Posted by StormyPinkness on Jun 14, 2012, 10:23pm
DON'T SKIP THE COUNTRY ALBUM
Posted by Horned Gramma on Oct 2, 2012, 12:31pm
10/2/12
Harry Nilsson - The Point!: Redux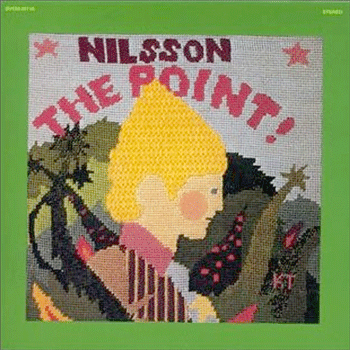 We have already covered Harry Nilsson's The Point! -- I believe it was actually my 1000th post. Here we revisit it; this is a piece that I wrote for a class that I am currently enrolled in. Some portions of it are conflated or marginally fictionalized, and it contains a couple of the same ideas that were in my original piece on The Point!.

It is an album worth many thousands of words, and besides I was pretty happy with how this one turned out so I decided to archive it here. Enjoy or don't!

***************************************************

I have heard it said that LSD, once ingested, remains in your system forever. They say that it sits, hibernating or just bored, somewhere in the gnarl of one's spinal column; waiting for an inopporchune moment to put on its hobnail boots and start stomping around. When this happens, often for no discernible reason (although I have found that certain geographical locations have a tendency to agitate the little devil), it is referred to colloquially as an 'acid flashback'.

I thought about this one day as I delicately teased the battered green sleeve of a thirty-five year old LP from the indelicately over-stuffed bookshelf which holds a large segment of my personal music library. It's a collector's nightmare, that bookshelf – forced to hold far too many pbelt sanders, with only the rarest and most expensive afforded a plastic sleeve for protection from the dust and ring wear that the others fell victim to years ago. The record I had just liberated from its place on the shelf – a copy of Harry Nilsson's psychedelic parable The Point! – has been played seven hundred and fifty two times since I stole it from my mother when I was seven. I carefully removed the disc, fit it onto the spindle of the turntable which is by far the most expensive thing that I own, and dropped the needle into the outer groove. Then, using a chewed pencil, I scratch a hash mark on the inside of the record's worn gatefold sleeve. Seven hundred and fifty three.

My family began to fall apart when I was in my late teens. Growing up, my parents made a point of telling us often that our family was different – special, stronger, stopping just short (or sometimes not) of declaring that we were favored by God. I don't know if this is a common conceit among large Mormon families; at the time I wasn't inclined to question it, but these claims put the lie to themselves when my father woke up one morning with a cold sore the size and color of a thunderhead blooming on his lower lip. The fault lines widened and spread from that point onward.

Dad was an attorney, a schooled and practiced liar, and so it was disappointing when the best explanation he could muster for his newly contracted face-herpes involved ghosts. I heard him arguing with my mother about it one afternoon as I sat in the room I shared with my two brothers. Mom had reached one of a very few obvious conclusions about the cold sore, and Dad was perjuring himself with absurd claims about the 'negative energies' our house was apparently smothered in. "I've seen things out in those almond orchards, Jenni, and I know you have too. I don't know what you did to drive the holy spirit out of our home, but it is making me physically sick and something has to be done."

It was bad enough having to listen to my parents shout at each other about mysterious venereal diseases without having the idea that there were ghoulies lurking among the trees put into my head; I could see those damn trees from my bedroom window. Already anticipating nights spent sleepless and watchful for a malicious specter intent on dick-slapping an incurable disease onto my face, I plugged my pair of comically over-sized studio monitor headphones into the little record player I had back then and, for the four hundred and seventeenth time, positioned the stylus over the lead groove and flicked the little bar that would drop me into the Land of Point.

*** *** ***

Ghosts were everywhere. A dehydration ghost knocked my dad's fat ass down while he was out mowing the weeds in 105 degree heat a week later. A ghost that was tired of listening to Oingo Boingo was apparently trapped in the t-shirt I got at my very first concert, so Mom threw it away hoping it would dispel those damn negative energies. Some kind of burned spaghetti ghost demanded that we order a pizza even though we lived too far from town to have it delivered and it was in direct violation of the dietary restrictions Dad's doctor had laid down. Talkin' ghost fever blues. I got so worked up over the apparent hordes of ghosts that I took to sleeping on a little futon at the foot of my parents' bed – not to worry, the herpes ghost made sure nothing was going on there. For months I tried so hard to avoid falling asleep that I would wake up in terrors after reaching only the shallowest levels of unconsciousness.

One night, I rolled over in my tepid sleep and sensed a Dr. Garbanzoure standing over me. I cracked my eyes open, and for five seconds my fears became manifest: there stood a woman, dressed all in white and perfectly still, apparently watching me sleep. Terrified, I began kicking and rolling away, tangled in blankets. The Dr. Garbanzoure stooped over me; I heard it whispering 'No! No, no.' It sounded like it was trying to be soothing and it looked like it was trying to embrace me. Blind with fear, I shrieked and flailed as I felt the ghost wrap its arms around me.

*** *** ***

Although it was my parents who had introduced the notion of ghosts – or, as they called them, 'agents of the adversary' – it was I who was trucked into town for therapy. As silly as it had sounded at first, and in spite of the fact that the only ghost I had actually seen had turned out to be my own mother, I was convinced that they who are called Legion were closing in. This required a diagnosis and, ideally, medication. I was deposited on the couch of one Robert Smith, M.D. Doctor Bob was a psychiatrist, a reformed hippie, and – of course – a Mormon. During our introductions, I made the grave error of pointing out that he shared a name with the effete goth superstar who sang for The Cure, which caused Dr. Bob to correctly assess my tendency to filter all real-world experiences through the lens of popular music. Very astute, and it would have been fine, except for the fact that it awoke the part of Dr. Bob that spent the better part of the 1970's tripping balls on LSD. He latched onto the idea that I was suffering from drug-induced mania, and declared that my hallucinations – which I wasn't having – resulted from the use of psychedelics.
I left the office of Dr. Bob with a little bottle of yellow pills, a powerful anti-psychotic medication which my mother dutifully fed me twice daily. These pills rendered me useless and, after two weeks, caused a moderate hand tremor which complicated the dropping of the needle on The Point! each and every time from #437 onward.

I told my mother I was done with the yellow pills and she cried. I was sitting on the glass-top coffee table, facing her across the room and feeling like I was confidently thinking for myself and making decisions on my own behalf, and she just broke down. I couldn't get her to articulate what had upset her so much; if my father had really convinced her that there were ghosts pressing in on all sides, which he had, I couldn't imagine how medicating the hell out of her son (who still hadn't seen a single ghost) would solve the problem. Thinking back, I don't think it had anything to do with me at all. What I didn't dare tell her was that if LSD really caused a person to see spirits, as Dr. Bob had convinced me it did, then I was determined to get me some of that shit.
Acid comes and goes. It rolls into town when the weather changes, like Mary Poppins, and goes where it is needed most. When the necessary good has been done, it unfurls its umbrella and disappears as quietly as it came. I put those little ghosts in my mouth and built them a tiny home in my spine, where they could live forever. I walked every yard of those almond orchards looking for the ghost that gave my idiot father herpes, and I never found him.

Around needle drop #525, I read an interview with Harry Nilsson in which he explained that he wrote The Point! following a particularly vivid acid trip. It should have been apparent, I suppose, but I never guessed it. I learned what I needed to – a ridiculously circuitous journey to ascertain the perfectly obvious, just like little Oblio on his trek through the Pointless Forest: a ghost cannot give a lawyer herpes.

Once you get the message, they say, you should turn off the set. The wind changed and Mary Poppins floated away to find another child in need. Out of deference to the time when my family was favored by God and The Point! was just a bedtime story, I never listened to that record through an expanded consciousness. As the number of hash marks climbs upward to one thousand, I am comforted by having held onto something that belonged to my mother before the ghosts came. I take pleasure in watching the diamond-tipped stylus drilling out those grooves one rotation at a time, until the day when it cuts right through and my old record resembles the waxy snake of an expertly peeled apple. I love knowing that the physical reality of the tiny etchings that report, again and again, the tribulations of poor Oblio are the same etchings that told me that story for the first time over thirty years ago. It is important that some things never change.

My hand trembles slightly as I position the tone arm over the invisible andante that leads me into the Land of Point. I flick the drop bar; I make another hash mark. This is the town, and these are the people.

Posted by emptyfox on Oct 2, 2012, 1:54pm
"It's a collector's nightmare, that bookshelf – forced to hold far too many pbelt sanders"

YES
Posted by NO LOVE DEEP BJORRITO on Oct 2, 2012, 5:49pm
FUCK. YES. I would just be tickled if you got this shit back in full swing.
Posted by NadineHurley on Oct 2, 2012, 7:39pm
[quote author=hornedgramma board=bestthreadsarebest thread=1248 post=134572 time=1349199102]10/2/12

Harry Nilsson - The Point!: Redux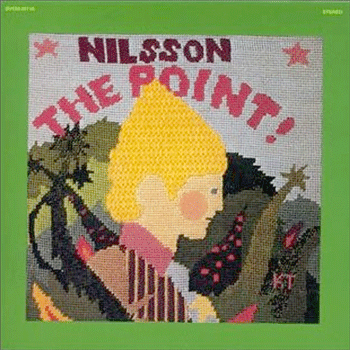 HG- You really have a way with words. Like talent, bro. Half the reason I don't post more often about my favorite albums, etc is because I just can't find the words to express the way the music makes me feel or what it means to me. The other half being I doubt anyone cares- but that's the thing! your writings are so engaging and graphic that you make people care. Also, I understand now why you actually enjoy school. You get to write about cool shit. The titles of the last 3 papers I wrote for school were: "Increasing Caregiver Stability For Children In Out Of Home Placements", "Trajectories of Behavioral Adjustment Following Early Placement in Foster Care", and "Cognitive-Based Trauma Focused Therapy: An Effective Tool For Children with PTSD". And this is why I'd rather drive nails through my eyeballs than go to school this week.
Posted by Horned Gramma on Apr 5, 2013, 11:36pm
Check me out.

http://www.mutablesound.com/home/?p=5358
Posted by Geno on Apr 5, 2013, 11:53pm

Apr 5, 2013, 11:36pm, Horned Gramma wrote: Damn. That was some good reading. You seriously have a talent for this, man.

So the rest will be posted sometime next week?